Movement and physiological demands of amateur mixed martial art fighting
(2020)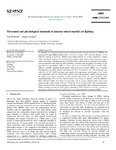 View/Open
Type of Content
Journal Article
Publisher
Sport and Exercise Science New Zealand
ISSN
2703-240X
Collections
Abstract
To quantify in-competition physiological loads of amateur mixed martial arts (MMA), we recruited 10 male MMA athletes (Age: 27.3 ± 3.3 y; mass: 79.5 ± 0.5 kg; height: 1.77 ± 0.04 m) training 9 ± 4 h.wk. Athletes were filmed during 3 x 5 min competitive rounds while notational analysis was performed post-fight using referee head-mounted camera video-recordings. Standing punches including elbows thrown, kicks attempted and landed, and accumulated time-fighting while standing, clinching and grappling (wrestling on the ground) were quantified. Athletes' heart rates were measured between rounds, while athletes' earlobe sampled blood lactate and perceived exertion (RPE) were recorded immediately post-fight. Results demonstrated 39 ± 18 punches were thrown/round, but only 20 ± 11 (47 ± 20%) of these were landed. In comparison, each round, 11 ± 7 kicks were attempted, and 5 ± 5 (48 ± 20%) of these struck the opponent. Similar proportions of the fight were spent wrestling on the ground (40 ± 23 %). and standing while punching/kicking (39 ± 18 %). Blood lactate was 12.0 ± 2.8 mmol.L-1 and the athletes' RPE indicated fights were hard or very hard (16 ± 2 a.u.). Similar heart rates were achieved after each round (176 ± 7, 175 ± 14, 177 ± 11 beats.min). The proportionally higher amount of time spent grappling on the floor and fighting while standing indicates a higher training priority for these fight components. This research will assist coaches in developing training protocols replicating or exceeding demands of amateur MMA.
Citation
C. Petersen and Lindsay A. (2020). Movement and physiological demands of amateur mixed martial art fighting. The Journal of Sport and Exercise Science, Journal, 4(1), 40-43
This citation is automatically generated and may be unreliable. Use as a guide only.
Keywords
fighting; grappling; punching; time-motion analysis
ANZSRC Fields of Research
42 - Health sciences::4207 - Sports science and exercise::420702 - Exercise physiology
Rights
All rights reserved unless otherwise stated
Related items
Showing items related by title, author, creator and subject.
Hills SP

;

Barrett S

;

Hobbs M

;

Barwood MJ

;

Radcliffe JN

;

Cooke CB

;

Russell M

(

Public Library of Science (PLoS)

,

2020

)

Modifying a soccer substitute's pre-pitch-entry activities may represent an opportunity to maximise physical performance and minimise injury-risk following match-introduction. Using a professional team that has previously ...

Daneshfar A

;

Petersen C

;

Gahreman D

;

Knechtle B

(

Informa UK Limited

,

2020

)

Introduction: Power meter is a useful tool for monitoring cyclists' training and race performance. However, limited data are available regarding BMX racing power output. The aim of this study was to characterise the power ...

Ferguson HA

;

Harnish C

;

Chase, Geoff

(

Springer Science and Business Media LLC

,

2021

)

Cycling performance models are used to study rider and sport characteristics to better understand performance determinants and optimise competition outcomes. Performance requirements cover the demands of competition a ...