Resilience Tested: A year and a half of 10,000 aftershocks.
(2012)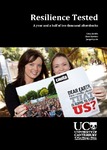 Type of Content
Reports
Publisher
University of Canterbury. Civil and Natural Resources Engineering
ISSN
1178-7279
Authors
Seville, E.
Hawker, C.
Lyttle, J.
show all
Abstract
On the second day of teaching for 2011, the University of Canterbury (UC) faced the most significant crisis of its 138-year history. After being shaken severely by a magnitude 7.1 earthquake on 4 September 2010, UC felt it was well along the pathway to getting back to 'normal'. That all changed at 12:51pm on 22 February 2011, when Christchurch city was hit by an even more devastating event. A magnitude 6.3 (Modified Mercalli intensity ten – MM X) earthquake, just 13km south-east of the Christchurch city centre, caused vertical peak ground accelerations amongst the highest ever recorded in an urban environment, in some places more than twice the acceleration due to gravity. The earthquake caused immediate evacuation of the UC campus and resulted in significant damage to many buildings. Thankfully there were no serious injuries or fatalities on campus, but 185 people died in the city and many more suffered serious injuries. At the time of writing, eighteen months after the first earthquake in September, Christchurch is still experiencing regular earthquakes. Seismologists warn that the region may experience heightened seismicity for a decade or more. While writing this report we have talked with many different people from across the University. People's experiences are different and we have not managed to talk with everyone, but we hope that by drawing together many different perspectives from across the campus that this report will serve two purposes; to retain our institutional memory of what we have learnt over the past eighteen months, and also to share our learnings with other organisations in New Zealand and around the world who, we hope, will benefit from learning about our experience.
Citation
Seville, E., Hawker, C., Lyttle, J. (2012) Resilience Tested: A year and a half of 10,000 aftershocks.. University of Canterbury..
This citation is automatically generated and may be unreliable. Use as a guide only.
ANZSRC Fields of Research
37 - Earth sciences::3709 - Physical geography and environmental geoscience::370903 - Natural hazards
17 - Psychology and Cognitive Sciences::1701 - Psychology::170107 - Industrial and Organisational Psychology
Related items
Showing items related by title, author, creator and subject.
Alestra T

;

Bell J

;

Lewis M

;

Parsons S

;

Girvan R

;

Martin-Paul M

;

Baggaley F

;

Blackely T

;

Moore T

;

Todd D

;

Thompson K

;

Thomsen M

;

Hart, Deirdre E.

(

2022

)

Britt, E.

;

Carter, J.

;

Conradson, D.

;

Scott, A.

;

Vargo, J.

;

Moss, H.

(

University of Canterbury. Department of Accounting and Information SystemsUniversity of Canterbury. GeographyUniversity of Canterbury. PsychologyUniversity of Canterbury. School of Language, Social and Political SciencesUniversity of Canterbury. School of Health SciencesUniversity of Canterbury. Sociology

,

2012

)

The Canterbury earthquakes are unique in that the there have been a series of major earthquakes, each with their own subsequent aftershock pattern. These have extended from the first large earthquake in September 2010 to ...

Roy, S.

;

Purdie, H.

;

Gomez, C.

;

Wassmer, P.

;

Schuster, M.

(

University of Canterbury. Geography

,

2015

)

As glaciers retreat, downwasting of the ice increases the instability of surrounding rock slopes. In addition, ice thinning can lead to surface morphology changes that can result in a progressively concave transverse ...