Professionalism interrupted? Professionalism's challenges to local knowledge in New Zealand counselling
(2014)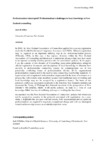 View/Open
Type of Content
Journal Articles
Publisher
University of Canterbury. School of Health Sciences
Collections
Abstract
In 2009, the New Zealand Association of Counsellors applied for statutory registration under the Health Practitioners Competence Assurance Act (2003). Whereas registration may be regarded as an important unifying step in the professionalisation process (Wilenski, 1964), in this case it has exposed divisions within the New Zealand Association of Counselling and threatened to undermine advances that have been made to incorporate culturally sensitive practices into the association's policies. In this paper, I use the content of two decades of Counselling Association publications alongside official registration documents and descriptions of local knowledge to illustrate how attempts to professionalise counselling expose the complementary use of two potentially conflicting forms of professionalism (Evetts, 2011): organisational professionalism (represented in the need to raise counselling membership standards for registration) and occupational professionalism (represented in the form of resistance to a process that will exclude some members because their traditional ways of working and local knowledge may not be accepted by a registration board). The basis of this potential conflict and associated complexity is the founding New Zealand constitutional document the Treaty of Waitangi that demands inclusion of the perspectives of New Zealand's first peoples, Māori, in all public policies. At stake is a form of local knowedge: Māori theories of wellbeing and ways of working that have been incorporated into the New Zealand Association of Counsellors' policies but which may not be accepted as essential to the protocols associated with registration. As a case-study, it highlights that in a post-colonial society, both organisational and occupational professionalism are required to negotiate occupational change and both are interrupted when local knowledge is seen as a centrally important value.
Citation
Miller, J.H. (2014) Professionalism interrupted? Professionalism's challenges to local knowledge in New Zealand counselling. Current Sociology, 62(1), pp. 100-113.
This citation is automatically generated and may be unreliable. Use as a guide only.
Keywords
counselling; local knowledge; New Zealand; professionalism
ANZSRC Fields of Research
16 - Studies in Human Society::1607 - Social Work::160702 - Counselling, Welfare and Community Services