Group identity and relation-specific investment: An experimental investigation
(2013)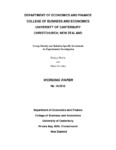 View/Open
Type of Content
Journal Article
Publisher
University of Canterbury. Department of Economics and Finance
Collections
Authors
Morita, H.,
Servátka, M.
show all
Abstract
The hold-up problem has played a central role in the study of firm boundaries, which is a fundamental element of the economic study of organizations. We study a previously unex-plored mechanism by which integration between two parties could resolve the problem. Based on the social identity theory, we conjecture that group identity strengthens agents' altruistic prefer-ences towards group members, and this helps resolve the hold-up problem. We test this conjec-ture in a laboratory experiment. Our subjects were randomly divided into two teams and asked to wear their team uniform. Task 1 required them to answer questions about trivia, where the sub-jects had access to a chat program that enabled them to help their team members. For Task 2, the subjects played a hold-up game with either a member of their own team (representing integra-tion) or a member of the other team (non-integration). The experimental results support our conjectures.
Citation
Morita, H., Servátka, M. (2013) Group identity and relation-specific investment: An experimental investigation. European Economic Review, 58, pp. 95-109.
This citation is automatically generated and may be unreliable. Use as a guide only.
Keywords
altruism; experiment; hold-up problem; group identity; relation-specific investment; team membership
ANZSRC Fields of Research
14 - Economics::1402 - Applied Economics::140206 - Experimental Economics
15 - Commerce, Management, Tourism and Services::1502 - Banking, Finance and Investment::150299 - Banking, Finance and Investment not elsewhere classified
15 - Commerce, Management, Tourism and Services::1503 - Business and Management::150311 - Organisational Behaviour
17 - Psychology and Cognitive Sciences::1701 - Psychology::170107 - Industrial and Organisational Psychology