Colloquy and continuity : the integrated dialogues of Blanche Edith Baughan
(1998)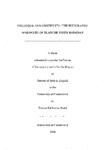 View/Open
Type of Content
Theses / Dissertations
Thesis Discipline
English
Degree Name
Master of Arts
Publisher
University of Canterbury. English
Collections
Abstract
Blanche Edith Baughan quickly created a niche for herself on her arrival in New Zealand, firstly with her poetic career, and later in her work as social reformist. While she is remembered for both these endeavours, she remains better known for her poetry. Accordingly, there has been a good deal of supposition as to why she chose to abandon her relatively successful literary vocation. The research for my thesis began by investigating this puzzling moment in her career. It has generally been acknowledged that there was a radical break in Baughan's life, and that, at about the time she ceased her output as writer, her energies were diverted to humanitarian concerns. However, via an investigation of Baughan's archival papers, this thesis proposes a continuity between these ostensibly separate careers, the key to which is colloquy, or a complex network of dialogues. I have outlined the development of Baughan's colloquy by exploring those conversations central to her life here. The first chapter looks at the cultural nationalist narrative, and the somewhat awkward positioning of Baughan within a framework that emphasises the 'man alone.' It also recognises that there is an alternative way to read her writing, for Baughan refused to acknowledge factors central to masculinism and instead immersed herself in a network of multiple conversations. Both writing and social work were part of this integrated discourse which enabled her to occupy different areas of engagement contemporaneously. After investigating her literary relationships in Chapter Two, I consider the effects of Baughan's mystical experiences and her involvement with Vedanta in Chapter Three. The concluding chapter concentrates on her interest in creating 'Beauty from Ashes,' with a reading of the numerous dialogues that make up her penal reform work.
Rights
Copyright Emma Katherine Bond
Related items
Showing items related by title, author, creator and subject.
Tan, Marion

;

Prasanna, Raj

;

Stock, Kristin

;

Hudson-Doyle, Emma

;

Leonard, Graham

;

Johnston, David

(

2018

)

Smartphone applications (apps) have the potential to improve disaster resilience by providing an avenue to communicate relevant and time-critical information to the public. Multiple disaster apps already exist; however, ...

The extremophilic nature and metabolic flexibility of Galdieria spp. have major potential in several biotechnological applications1. However, limiting research into successful large scale continuous cultivation of Galdieria ...

Chase, Geoff

;

Hann, C.E.

;

Jackson, M.

;

Lin, J.

;

Lotz, T.

;

Wong, X-W.

;

Shaw, Geoff

(

University of Canterbury. Mechanical Engineering.

,

2006

)

Hyperglycaemia is prevalent in critical illness and increases the risk of further complications and mortality, while tight control can reduce mortality up to 43%. Adaptive control methods are capable of highly accurate, ...