Black box and blue screen: Readerly entrapment and projection in Pale Fire and House of Leaves.
(2005)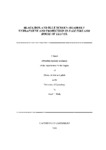 View/Open
Type of Content
Theses / Dissertations
Degree Name
Master of Arts
Publisher
University of Canterbury. English
Collections
Abstract
In many respects Vladimir Nabokov's 1962 novel Pale Fire and Mark Z. Danielewski's House of Leaves, first published in 2000, are strikingly similar texts. Indeed, Danielewski's novel can profitably be read as a contemporary re-working of Nabokov's archetypal metafictional model. However, where Danielewski constructs his text as an open-work or 'blue screen' onto which the reader is invited to attach any meaning that they see fit, Nabokov quite explicitly constructs his novel as an infernal 'black box' designed to confuse and entrap the reader and enforce his control over the text and its meaning. Nabokov's novel is fundamentally author-directed, while Danielewski's novel is expressly reader-oriented. Reading Pale Fire through the lens of House of Leaves allows for a radical renegotiation of the Nabokovian text. Danielewski's novel, I argue, allows us to recognize the points of instability latent in the unique structure ofNabokov's novel, and thus open up the text beyond Nabokov's attempted closure and thereby pave the way for new, innovative and creative readings.
Rights
Copyright Jared L. Wells
Related items
Showing items related by title, author, creator and subject.
Ritson, Margaret E.

(

University of Canterbury. Department of Education

,

1994

)

This project was designed to develop an assessment appropriate to NZ adults with reading difficulties. It is intended to provide a reading: comprehension level with which teachers and tutors can make informed decisions on ...

Burn, Courtney Jayne

(

University of Canterbury

,

2017

)

Climate change is believed to be altering the Earth's climate, and driving ocean systems into conditions which could fundamentally and irreversibly modify ecology systems, in particular ectothermic marine ecosystems are ...

Howard, Nicole Marie

(

University of Canterbury. English

,

2015

)

Mark Z. Danielewski's House of Leaves and Audrey Niffenegger's two visual novels The Three Incestuous Sisters and The Adventuress all contain examples of manipulated paratext - paratexts being the devices involved in the ...