High pulse AC/DC convertors and their application to HVDC transmission.
(1992)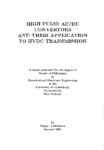 View/Open
Type of Content
Theses / Dissertations
Degree Name
Doctor of Philosophy
Publisher
University of Canterbury. Electrical Engineering
Collections
Abstract
AC/DC convertors used in HVdc transmission systems inject harmonics into their associated AC and DC systems. A conventional approach to filter these harmonics is to use passive filters on both AC and DC sides of the convertor. Apart from their technical problems, harmonic filters constitute a considerable part of the volume and cost of present DC terminal stations. Another possible alternative of harmonic suppression is to increase the number of pulses of AC/DC convertors by transformer phase-shifting techniques, but the resulting complicated circuitry together with its problems of insulation produce significant technical and economical disadvantages. In this thesis a novel method of harmonic suppression for HVdc transmission systems is presented. It is a technique producing the same effect as transformer phase-shifting but without complicated circuitry. Moreover, the possibility of increasing the number of pulses of AC/DC convertors to any desired extent is proposed. The concept can be applied to parallel and series connections of convertors. Further applications, other than HVdc transmission, are also suggested.
Rights
Copyright Miguel Villablanca