1,4-Bis(8-quinolyloxymethyl)benzene
(2004)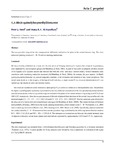 View/Open
Type of Content
Journal Article
Publisher
University of Canterbury. Chemistry.
ISSN
1600-5368
Collections
Authors
Steel, P.J.,
Al-Mandhary, M.R.A.
show all
Abstract
The two quinoline rings of the title compound are differently inclined to the plane of the central benzene ring. The intermolecular packing involves C—H···N and π-π stacking interactions.
Citation
Steel, P.J. and Al-Mandhary, M.R.A. (2004) 1,4-Bis(8-quinolyloxymethyl)benzene. Acta Crystallographica, E60, pp. o346-o347.
This citation is automatically generated and may be unreliable. Use as a guide only.