Aminoalkylation of nitriles by iminium ions generated in situ
(2006)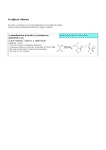 View/Open
Type of Content
Journal Article
Publisher
University of Canterbury. Chemistry.
ISSN
0040-4039
Collections
Authors
Katritzky, A.R.,
Abdel-Fattah, A.A.A.,
Steel, P.J.
show all
Abstract
Aminoalkylation of a series of primary and secondary nitriles with N-(α-aminoalkyl)benzotriazoles 1 (derived from a variety of secondary amines and aldehydes) proceeds smoothly providing the corresponding β-aminoalkyl nitriles 5a–j in 66–97% yields.
Citation
Katritzky, A.R., Abdel-Fattah, A.A.A, Steel, P.J. (2006) Aminoalkylation of nitriles by iminium ions generated in situ. Tetrahedron Letters, 47(9), pp. 1465-1467.
This citation is automatically generated and may be unreliable. Use as a guide only.
Keywords
Aminoalkylation; N-(α-Aminoalkyl)benzotriazoles; ß-Aminoalkyl nitriles