The applicability of the Consumer Protection Act 2008 to Credit Agreements
(2010)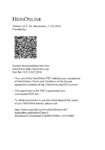 Type of Content
Journal Article
Publisher
University of Canterbury. School of Law
Collections
Authors
Melville, N.,
Palmer, R.
show all
Abstract
Here we will analyse the Consumer Protection Act of 68 of 2008 (CPA) to see which of its provisions govern transactions that fall within the National Credit Act 34 of 2005 (NCA).We will do so by examining s 5(2)(d) of the CPA, which excludes transactions that constitute credit agreements from the ambit of the CPA, and then by considering which provisions of the CPA this exclusion would affect.
Citation
Melville, N., Palmer, R. (2010) The applicability of the Consumer Protection Act 2008 to Credit Agreements. South African Mercantile Law Journal, pp. 272-277.
This citation is automatically generated and may be unreliable. Use as a guide only.
ANZSRC Fields of Research
18 - Law and Legal Studies::1801 - Law::180199 - Law not elsewhere classified