Observational challenges for the standard FLRW model
(2016)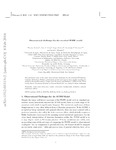 View/Open
Type of Content
Journal Article
Publisher
University of Canterbury. Physics and Astronomy
Collections
Authors
Buchert, T.,
Coley, A.A.,
Kleinert, H.,
Roukema, B.F.,
Wiltshire, D.L.
show all
Abstract
We summarise some of the main observational challenges for the standard Friedmann– Lemaˆıtre–Robertson–Walker cosmological model and describe how results recently presented in the parallel session "Large–scale Structure and Statistics" (DE3) at the "Fourteenth Marcel Grossman Meeting on General Relativity" are related to these challenges.
Citation
Buchert, T., Coley, A.A., Kleinert, H., Roukema, B.F., Wiltshire, D.L. (2016) Observational challenges for the standard FLRW model. International Journal of Modern Physics D: Gravitation; Astrophysics and Cosmology, 25(3), pp. 1630007 (17pp).
This citation is automatically generated and may be unreliable. Use as a guide only.
Keywords
large–scale structure; cosmic microwave background; statistics; general– relativistic effects
ANZSRC Fields of Research
02 - Physical Sciences::0201 - Astronomical and Space Sciences