What is Intellectual Freedom Today: An Indigenous Reflection
(2016)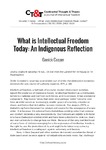 View/Open
Type of Content
Journal Article
Publisher
University of Canterbury. Aotahi School of Maori and Indigenous Studies
Abstract
Intellectual freedom, a hallmark of so-called modern democratic societies, signals the existence of repressive forces. Intellectual freedom as a mechanism, serves to challenge and confront such forces, and its excesses. It has a temporal component. Repressive forces that were once perhaps "order" become over time, as order serves an increasingly smaller group of a society, disorder or chaos, and forces that destabilise become imminent. For Jaspers (1971), a destabilising force becomes the catalyst and source for the emergence of a new order. It is because this external force destabilises existing order that violence and conflict becomes a very real possibility. Our histories are replete with those who have challenged existing order and have been subjected to violence, death and even attempts to change how we think. Because of the very real likelihood of some form of violence emerging from the expression of intellectual freedom, the right to, and the protection of, is, and ought to be taken very seriously. Intellectual freedom is a safeguard against autocracy and fascism.
Citation
Cooper, G. (2016) What is Intellectual Freedom Today: An Indigenous Reflection. Continental Thought &Theory, 1(1), pp. 93-95.
This citation is automatically generated and may be unreliable. Use as a guide only.
ANZSRC Fields of Research
20 - Language, Communication and Culture::2002 - Cultural Studies::200207 - Māori Cultural Studies
21 - History and Archaeology::2103 - Historical Studies::210309 - Māori History
44 - Human society::4408 - Political science::440809 - New Zealand government and politics