On the aliasing of the solar cycle in the lower stratospheric tropical temperature
(2017)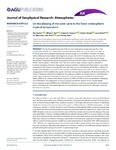 View/Open
Type of Content
Journal Article
ISSN
2169-897X
2169-8996
Authors
Kuchar A
Ball WT
Rozanov EV
Stenke A
Revell L
Miksovsky J
Pisoft P
Peter T
show all
Abstract
©2017. American Geophysical Union. All Rights Reserved. The double-peaked response of the tropical stratospheric temperature profile to the 11 year solar cycle (SC) has been well documented. However, there are concerns about the origin of the lower peak due to potential aliasing with volcanic eruptions or the El Niño–Southern Oscillation (ENSO) detected using multiple linear regression analysis. We confirm the aliasing using the results of the chemistry-climate model (CCM) SOCOLv3 obtained in the framework of the International Global Atmospheric Chemisty/Stratosphere-troposphere Processes And their Role in Climate Chemistry-Climate Model Initiative phase 1. We further show that even without major volcanic eruptions included in transient simulations, the lower stratospheric response exhibits a residual peak when historical sea surface temperatures (SSTs)/sea ice coverage (SIC) are used. Only the use of climatological SSTs/SICs in addition to background stratospheric aerosols removes volcanic and ENSO signals and results in an almost complete disappearance of the modeled solar signal in the lower stratospheric temperature. We demonstrate that the choice of temporal subperiod considered for the regression analysis has a large impact on the estimated profile signal in the lower stratosphere: at least 45 consecutive years are needed to avoid the large aliasing effect of SC maxima with volcanic eruptions in 1982 and 1991 in historical simulations, reanalyses, and observations. The application of volcanic forcing compiled for phase 6 of the Coupled Model Intercomparison Project (CMIP6) in the CCM SOCOLv3 reduces the warming overestimation in the tropical lower stratosphere and the volcanic aliasing of the temperature response to the SC, although it does not eliminate it completely.
ANZSRC Fields of Research
04 - Earth Sciences::0401 - Atmospheric Sciences::040108 - Tropospheric and Stratospheric Physics
37 - Earth sciences::3701 - Atmospheric sciences::370105 - Atmospheric dynamics
Related items
Showing items related by title, author, creator and subject.
Ayarzaguena B

;

Polvani LM

;

Langematz U

;

Akiyoshi H

;

Bekki S

;

Butchart N

;

Dameris M

;

Deushi M

;

Hardiman SC

;

Jockel P

;

Klekociuk A

;

Marchand M

;

Michou M

;

Morgenstern O

;

O'Connor F

;

Oman LD

;

Plummer DA

;

Revell LE

;

Rozanov E

;

Saint-Martin D

;

Scinocca J

;

Stenke A

;

Stone K

;

Yamashita Y

;

Yoshida K

;

Zeng G

(

2018

)

Major mid-winter stratospheric sudden warmings (SSWs) are the largest instance of wintertime variability in the Arctic stratosphere. Because SSWs are able to cause significant surface weather anomalies on intra-season ...

Revell LE

;

Stenke A

;

Luo B

;

Kremser S

;

Rozanov E

;

Sukhodolov T

;

Peter T

(

2017

)

To simulate the impacts of volcanic eruptions on the stratosphere, chemistry–climate models that do not include an online aerosol module require temporally and spatially resolved aerosol size parameters for heterogene ...

Anderson DC

;

Nicely JM

;

Wolfe GM

;

Hanisco TF

;

Salawitch RJ

;

Canty TP

;

Dickerson RR

;

Apel EC

;

Baidar S

;

Bannan TJ

;

Blake NJ

;

Chen D

;

Dix B

;

Fernandez RP

;

Hall SR

;

Hornbrook RS

;

Gregory Huey L

;

Josse B

;

Jöckel P

;

Kinnison DE

;

Koenig TK

;

Le Breton M

;

Marécal V

;

Morgenstern O

;

Oman LD

;

Pan LL

;

Percival C

;

Plummer D

;

Revell LE

;

Rozanov E

;

Saiz-Lopez A

;

Stenke A

;

Sudo K

;

Tilmes S

;

Ullmann K

;

Volkamer R

;

Weinheimer AJ

;

Zeng G

(

2017

)

©2017. American Geophysical Union. All Rights Reserved. Formaldehyde (HCHO) directly affects the atmospheric oxidative capacity through its effects on HO x . In remote marine environments, such as the tropical western ...