Comparison of adaptive and sliding-scale glycaemic control in critical care and the impact of nutritional inputs
(2005)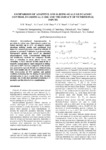 View/Open
Type of Content
Conference Contributions - Published
Publisher
University of Canterbury. Mechanical Engineering.
Collections
Authors
Wong, X-W.,
Chase, J.G.,
Shaw, G.M.,
Hann, C.E.,
Lin, J.,
Lotz, T.
show all
Abstract
Stress-induced hyperglycaemia is prevalent in critical care. Tight glucose control can reduce mortality up to 43%. An adaptive control algorithm utilising insulin and nutritional feed inputs for targeted glycaemic control in critically ill patients is presented. Validation is performed using retrospective patient data (n=19) in simulated glucoregulatory trials. Conventional sliding-scale and insulin-only methods are compared. Results show a reduction in mean glucose levels, and variability. A 312% increase in time spent in the 4- 6mmol/L normal glucose band compared to sliding scale and a 240% increase compared to the insulin only protocol is reported. Results are obtained using 60% more insulin and 20% more nutrition across a wide cross-section of ICU patients and patient condition, indicating that the timing of control input administration is more crucial than their absolute amounts. The results show potential in reducing ICU mortality and the risk of severe complications.
Citation
Wong, X.W., Chase, J.G., Shaw, G.M., Hann, C.E., Lin, J., Lotz, T. (2005) Comparison of adaptive and sliding-scale glycaemic control in critical care and the impact of nutritional inputs. Singapore: 12th International Conference On Biomedical Engineering, 7-10 Dec 2005. 2A5-06, 4 pp.
This citation is automatically generated and may be unreliable. Use as a guide only.