Water quality of the Grijalva river in the Chiapas and Tabasco border (in Spanish)
(2018)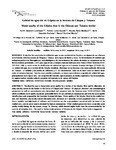 View/Open
Type of Content
Journal Article
ISSN
2007-901X
Authors
Musálem-Castillejos K
Laino-Guanes R
Bello Mendoza R
González-Espinosa M
Ramírez-Marcial N
show all
Abstract
The objective was to characterize water quality for a section of the Grijalva River and its tributaries, for rainy and dry season in the border of the States of Chiapas and Tabasco. 23 physical, chemical, and microbiological parameters as well as contaminants were determined and compared with the Mexican norm NOM-127-SSA1-1994 which establishes water quality maximum permissible limits for use and human consumption and with the water quality classification scale proposed by the Comisión Nacional del Agua. Water quality of the Grijalva River in the studied section and tributaries, also locally named Almandros river, decreases as it descends to more populated areas of Tabasco. Water turbidity and high levels of coliforms and Escherichia are the main problems associated with the rivers of the studied area, even in water sources destined for human consumption. Other studied parameters have acceptable water quality mainly during the dry season, except for Mercury, which showed higher levels than the recommended by the norm in all sampling sites. The need to further study presence of Mercury in the Grijalva River basin is suggested.
Keywords
Escherichia; coliforms; heavy metals; mercury; turbidity
ANZSRC Fields of Research
09 - Engineering::0905 - Civil Engineering::090508 - Water Quality Engineering
41 - Environmental sciences::4103 - Environmental biotechnology::410305 - Environmental marine biotechnology
Rights
Creative Commons License This work is licensed under a Creative Commons Attribution-NonCommercial-NoDerivatives 4.0 International License.
Related items
Showing items related by title, author, creator and subject.
Charters, Frances J.

;

Cochrane, Thomas A.

;

O'Sullivan, Aisling D.

(

2020

)

Understanding the amount of pollutants contributed by impermeable urban surfaces during rain events is necessary for developing effective stormwater management. A process-based pollutant load model, named Modelled Estimates ...

Cadórniga, I.

;

Cochrane, T.A.

;

O'Sullivan, A.

(

University of Canterbury. Civil and Natural Resources Engineering

,

2013

)

Urban stormwater contains substantial amounts of heavy metals (Zn, Cu, Pb) and suspended solids (TSS). Untreated, these contaminants are recognized as the main detriment to urban waterways. To quantify the sources of these ...

Villanueva-Rodríguez, M.

;

Bello-Mendoza, R.

(

University of Canterbury. Civil and Natural Resources Engineering

,

2012

)

Introduction. In the initial coffee process exist two principal methods to remove the pulp and skin from cherries of coffee: dry method and the wet method . Wet processing consists of mechanical removal of exocarp in the ...