Using Role-Play to Improve Students' Confidence and Perceptions of Communication in a Simulated Volcanic Crisis
(2017)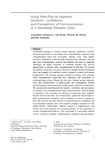 Type of Content
Chapters
Collections
Authors
Brogt, E
Wilson, T
Kennedy, B
Dohaney, Jacqueline
show all
Abstract
Traditional teaching of volcanic science typically emphasises scientific principles and tends to omit the key roles, responsibilities, protocols, and communication needs that accompany volcanic crises. This chapter provides a foundation in instructional communication, education, and risk and crisis communication research that identifies the need for authentic challenges in higher education to challenge learners and provide opportunities to practice crisis communication in real-time. We present an authentic, immersive role-play called the Volcanic Hazards Simulation that is an example of a teaching resource designed to match professional competencies. The role-play engages students in volcanic crisis concepts while simultaneously improving their confidence and perceptions of communicating science. During the role-play, students assume authentic roles and responsibilities of professionals and communicate through interdisciplinary team discussions, media releases, and press conferences. We characterised and measured the students' confidence and perceptions of volcanic crisis communication using a mixed methods research design to determine if the role-play was effective at improving these qualities. Results showed that there was a statistically significant improvement in both communication confidence and perceptions of science communication. The exercise was most effective in transforming low-confidence and low-perception students, with some negative changes measured for our higher-learners. Additionally, students reported a comprehensive and diverse set of best practices but focussed primarily on the mechanics of science communication delivery. This curriculum is a successful example of how to improve students' communication confidence and perceptions.
Citation
Dohaney J, Brogt E, Wilson T, Kennedy BM (2017). Using Role-Play to Improve Students' Confidence and Perceptions of Communication in a Simulated Volcanic Crisis.
This citation is automatically generated and may be unreliable. Use as a guide only.
ANZSRC Fields of Research
37 - Earth sciences::3705 - Geology::370512 - Volcanology
47 - Language, communication and culture::4701 - Communication and media studies::470108 - Organisational, interpersonal and intercultural communication
Related items
Showing items related by title, author, creator and subject.
Geological research in the immediate aftermath of the 2016 Kaikōura Earthquake, New Zealand, was necessary due to the importance and perishability of field data. It also reflects a real desire on the part of researchers ...

Ross T

(

Informa UK Limited

,

2019

)

New Zealand's Pacific communities face significant generational language loss and their media are increasingly produced in English, raising questions about the centrality of language for ethnic media and their audiences. ...

Kenix, L.J.

;

Abikanlu, O.E.

(

University of Canterbury. School of Language, Social and Political SciencesUniversity of Canterbury. Media and Communications

,

2016

)

Roughly forty percent of countries continue to categorize homosexuality as illegal. Punishment ranges from imprisonment, fines, sanctions, beatings, to death. However, refugee status is still granted largely on the basis ...