Adaptive bolus-based set-point regulation of hyperglycemia in critical care
(2004)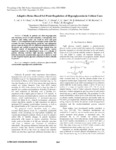 Type of Content
Conference Contributions - Published
Publisher
University of Canterbury. Mechanical Engineering.
ISBN
978-0-7803-8440-8
Collections
Authors
Lin, J.,
Chase, J.G.,
Shaw, G.M.,
Doran, C.V.,
Hann, C.E.,
Robertson, M.B.,
Browne, P.M.,
Lotz, T.,
Wake, G.C.,
Broughton, B.
show all
Abstract
Critically ill patients are often hyperglycemic and extremely diverse in their dynamics. Consequently, fixed protocols and sliding scales can result in error and poor control. A two-compartment glucose-insulin system model that accounts for time-varying insulin sensitivity and endogenous glucose removal, along with two different saturation kinetics is developed and verified in proof-of-concept clinical trials for adaptive control of hyperglycemia. The adaptive control algorithm monitors the physiological status of a critically ill patient, allowing real-time tight glycemic regulation. The bolus-based insulin administration approach is shown to result in safe, targeted stepwise glycemic reduction for three critically ill patients.
Citation
Lin, J., Chase, J.G., Shaw, G.M., Doran, C.V., Hann, C.E., Robertson, M.B., Browne, P.M., Lotz, T., Wake, G.C., Broughton, B. (2004) Adaptive bolus-based set-point regulation of hyperglycemia in critical care. San Francisco, CA, USA: 26th Annual International Conference of the Engineering in Medicine and Biology Society, 1-5 Sep 2004. EMBC 2004 Conference Proceedings, 2, 3463-3466.
This citation is automatically generated and may be unreliable. Use as a guide only.
Keywords
adaptive control; critical care; glucose-insulin system model; hyperglycemia; insulin bolus