Social workers without borders:Challenges to building partnerships. Learning from a PNG/Australian social work education relationship
(2017)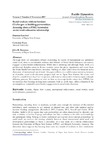 View/Open
Type of Content
Journal Article
Publisher
Macmillan Brown Centre for Pacific Studies
ISSN
2463-641X
Collections
Authors
Lawihin, Dunstan
Flynn, Catherine
Kamasua, John K.
show all
Abstract
Although there are contentious debates concerning the nature of international and globalised social work, there is considerable evidence that Schools of Social Work Education are actively engaged in cross-border collaborations. Whilst this is occurring and although Social work as a professional discipline exists in diverse contexts across the globe, experiences and voices from the South Pacific have had limited attention. Building on 'data' drawn from the literature and a discussion of international social work, this paper reflects on a collaboration occurring between an Australian social work education program and one in Papua New Guinea. We review and describe a model that is based on transparent, collaborative relationships between equal, although different, partners. We continue to work on how to encourage louder voices from UPNG, but we conclude that focusing on long-term outcomes, built on small steps, offers a framework for meaningful and sustainable cross-border engagements in social work education.
Keywords
partnership; social work education; social worker; international collaboration; Papua New Guinea; Australia
Related items
Showing items related by title, author, creator and subject.
Brown, Cheryl

;

Davis, N.

;

Sotardi, V.

;

Vidal, W.

(

2018

)

Not another paper on student engagement! The topic of student engagement has been reported on for decades and there is a multitude of literature adopting different perspectives and views conceptualizing and defining ...

Fickel LH

;

Chesbro P

;

Tucker S

;

Boxler N

(

2011

)

Philips, Rebecca Jean

(

University of Canterbury. Education

,

1997

)

This study is based on fieldwork carried out between October 1995 and December 1996 and has two dimensions. The first dimension reflects the study of social relationships between children with and without disabilities ...