Commuting distance and transport energy resilience: quantifying human commuting distribution to explore low carbon potentials with transition projects
(2017)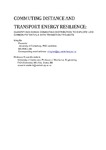 View/Open
Type of Content
Conference Contributions - Other
Collections
Abstract
Human commuting activity plays a significant role in understanding urban transport systems. This paper proposes a novel approach to modelling commuting distance distribution in a concise way. Having studied a small number of training data in New Zealand, it is found that the human commuting distance distribution can be quantified as a simple CDF exponential function with only one parameter to be determined, and the parameter is mainly dependent on the average distance to employment catchment. Besides its good predictability for test data, a Monte Carlo method to calculate the commuting VKT was introduced in the course of validation with considerable approximation to the real VKT observation. Two case studies on how to apply this model are presented to manifest its strength in exploring low carbon potentials in urban transport system, assuming that commuters could cycle to their workplaces in short distance, and an efficient commuting bus line was developed to replace the car driving in long distance. This model is convenient in simulating and predicting commuting distance distribution with limited data availability, and provides a quantitative foundation for analyzing urban transport resilience and emission mitigation.
Citation
Bai M, Krumdieck SP (2017). Commuting distance and transport energy resilience: quantifying human commuting distribution to explore low carbon potentials with transition projects. Hamilton, New Zealand: IPENZ Transport Group National Conference. 29/3/2017-31/3/2017.
This citation is automatically generated and may be unreliable. Use as a guide only.
ANZSRC Fields of Research
12 - Built Environment and Design::1205 - Urban and Regional Planning::120506 - Transport Planning
12 - Built Environment and Design::1205 - Urban and Regional Planning::120508 - Urban Design