"Can the EU be a credible international security actor without the integration of the Member States' militaries?"
(2015)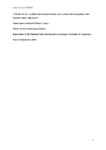 Thesis Discipline
European Studies
Degree Name
Master of Arts
Publisher
University of Canterbury. NCRE
Collections
Abstract
Like a phoenix rising from the ashes, Europe emerged from World War Two as something akin to a new creation. Gone were the days of aggressive militarism and war, in its place would be civilian power and democracy; or so Europe hoped. The 20th and 21st Centuries have witnessed some of the most barbaric acts in human history; this barbarity has led Europe on a quest to form a truly integrated European defence force with which to bring peace and justice both within its own borders and also to the world. By utilising Jutta Weldes' Constructivism framework, this thesis unravels and exposes the way in which the constructed identities of the European Union and its forbears have driven this quest in the post-war years; it also explores the interface between these identities and the EU's relationship with NATO, the United States, and its own constituent Member States.
Keywords
NATO; European Union; Military; Constructivism
Rights
Copyright James Comery
Related items
Showing items related by title, author, creator and subject.
Maier-Knapp, Naila Nijra

(

University of Canterbury. National Centre for Research on Europe

,

2007

)

The European Security and Defence Policy (ESDP) is a very young and innovative structure of the European Union's Common Foreign and Security Policy (CFSP). Since its launch in 1999 at the Summit of Cologne it has developed ...

Telle S

;

Brunazzo M

;

Doidge, Mathew

(

2021

)

European integration has never been a 'uniform' process, with one set of rules applying equally to all Member States. Instead, from Rome (1958) to Lisbon (2009), the treaties establishing the European Union (EU) and its ...

Warner, Frendehl Sipaco

(

University of Canterbury. National Centre for Research on Europe

,

2013

)

The Dublin Regulation determines the Member State responsible for accepting and making a decision on asylum claims lodged in the European Union ('EU'), Norway and Iceland. It aims to ensure that each asylum claim is examined ...