The roles of G.W. Forbes and J.G. Coates in the formation of the coalition government, the 1931 and the 1935 general elections
(1985)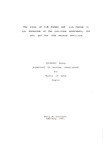 View/Open
Type of Content
Theses / Dissertations
Thesis Discipline
History
Degree Name
Master of Arts
Language
English
Collections
Abstract
George William Forbes and Joseph Gordon Coates were the two central figures in the Coalition Government of 1931-1935. Forbes was the Prime Minister, while Coates was the Minister of Finance, during the Great Depression. After a brief history of their early political careers this essay will examine the individual roles of Forbes and Coates in the formation of the Coalition Government in 1931. It will then compare and contrast their roles in the 1931, and 1935 elections.
Keywords
Forbes, George William, 1869-1947.; Coates, Gordon, 1878-1943; New Zealand--Parliament--Elections, 1931; New Zealand--Parliament--Elections, 1935; New Zealand--Politics and government
Rights
All Rights Reserved
Related items
Showing items related by title, author, creator and subject.
Marett, Alexandra

(

University of Canterbury. Social and Political Science

,

2010

)

Recent developments in Internet technology have opened up new doors for political campaigning and related news information with video and social networking applications. These have created new spaces that the voting public ...

Sanders, David Ross

(

1993

)

The primary object of this thesis is to use various content analysis tests to determine the direction and degree of bias and imbalance in the election communication of media organisations generally representative of ...

Booth, Glenn Joseph

(

1974

)

It is the intention of this paper to study the degree to which the concept of "party image" is applicable to election campaigning in New Zealand. Special emphasis is placed on the campaign conducted by the Labour Party in ...