The modern movement in Canterbury : the architecture of Paul Pascoe
(1986)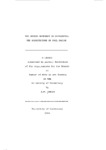 View/Open
Type of Content
Theses / Dissertations
Thesis Discipline
Art History
Degree Name
Master of Arts
Language
English
Collections
Abstract
When Paul Pascoe returned to New Zealand from England in 1933 he had received better first hand experience of modern architecture than probably any other New Zealand architect of his generation. This thesis examines the impact of that experience on Pascoe's career, the importance of his buildings and architectural writings and their significance in the history of the development of the modern movement in New Zealand architecture.
Chapter One discusses Pascoe's family background and his training in the architectural office of Cecil Wood, the most eminent architect in Christchurch in the nineteen-twenties. Pascoe's training was conservative, but during his years in Wood's office he absorbed much of the heritage of architectural excellence which Wood was heir to.
In England between 1933 and 1936 Pascoe first came into contact with the buildings of the modern movement. Chapter Two investigates the type of work Pascoe was involved with during his employment with Brian O'Rorke, a fellow expatriot architect, The Architectural Press, which, by this date supported the aims of the modern architects and with the Tecton Group, the most advanced architects working in Britain at this time.
Chapter Three examines the difficulties Pascoe had establishing a practice in the unsettled economic and political conditions of the late nineteen-thirties. It outlines his influential assessment of New Zealand architectural history published in the New Zealand Centennial Publication Making New Zealand in 1940.
The remainder of the thesis traces the development of Pascoe's houses, public buildings and churches from 1940 until his death in 1976.
The thesis concludes that the example of Pascoe's buildings and the enthusiasm with which he advocated modern principles to others were of great importance in the introduction of modern architecture to New Zealand.
Rights
All Rights Reserved
Related items
Showing items related by title, author, creator and subject.
van Drunen, Martha Elke

(

University of Canterbury. Social and Political Sciences

,

2011

)

For Walter Benjamin, architecture is the clearest expression of the 'latent mythology' that underlies any historical epoch; by engaging with works of modernist architecture in continental Europe during the first half of ...

Kenix, L.J.

(

University of Canterbury. Mass Communication and Journalism.

,

2000

)

Most environmental issues are particularly suited for examining the effect media can have on the public precisely because the majority of people do not have direct contact (or do not know they are in direct contact) with ...

McNeill, Paul Murray

(

University of Canterbury

,

1973

)

Sportsmen were found to have faster response times than non sportsmen in tasks with varying levels of stimulus display complexity. The difference between the response times of sportsmen and nonsportsmen was ...