Taming Investment Risk in the Philippines: Multilateral Mining Regimes,National Coping Strategies and Local Tension
(2011)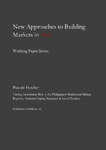 View/Open
Type of Content
Discussion / Working Papers
Abstract
Despite'the'stern'admonishments'of'the'prominent'Extractive' Industry'Review' in'2003,'the'World'Bank'Group'(WBG)'has'continued'to'promote'the'expansion'of'mining' activities' in' resource' rich' clientEcountries.' While' keeping' in' line' with' its' traditional' mantra' on' the' economic' benefits' of' the' sector' in' cashEstrapped' countries,' poverty' reduction'and'environmental' sustainability'have'become'in'recent'years,' the'new'porteE étandard'to'justify'the'need'for'the'WBG'to'remain'actively'involved'in'the'sector.'Building' on' the' cases' of' the' Philippines,' Papua'New' Guinea' and' Lao' PDR,' three' of' Asia's' richest' countries' in' term' of' mineral' endowment,' this' paper' analyses' this' new' social' and' environmental'narrative'in'conjunction'with'the'highly'political'nature'of'the'role'played by'the'WBG'in'the'mining'sector'of'its'countryEclients'over'time.'The'cases'suggest'that'the' WBG'has'played'a'key'role'in'influencing'a'wave'of'new'mining'regimes'in'the'region.'It'is' argued' that' these' new' regimes,' which' comprises' multilateral' social' and' environmental' safeguards,' circumscribes' the' risks' faced' by' industry,' rather' than' by' local' populations.' While' successful' in' stimulating' foreign' direct' investments' in' the' sector,' these' regimes' might'also'prove'to'be'ineffective'in'taming'local'and'national'resentment'against'mining' activities.'Crucially,'the'engineering'of'mining'regimes'and'normEsettings'in'multilateral' arenas'brings'forth'concerns'relating'to'the'legitimacy'of'the'transformations'of'the'roles' and' responsibilities' assigned' to' local' mining' stakeholders,' as' well' as' the' possible' subsequent'contraction'of'local'political'spaces.'
Citation
Hatcher P (2011). Taming Investment Risk in the Philippines: Multilateral Mining Regimes, National Coping Strategies and Local Tension. Lee Kuan Yew School of Public Policy.
This citation is automatically generated and may be unreliable. Use as a guide only.
ANZSRC Fields of Research
44 - Human society::4408 - Political science::440807 - Government and politics of Asia and the Pacific
40 - Engineering::4019 - Resources engineering and extractive metallurgy::401905 - Mining engineering
Rights
All rights reserved unless otherwise stated
Related items
Showing items related by title, author, creator and subject.
Hatcher, Pascale

(

Informa UK Limited

,

2015

)

Abstract: After decades promoting highly liberalised mining codes, the World Bank Group has now positioned poverty reduction and environmental sustainability as the fundamental objectives of its involvement in the sector. ...

Hatcher, Pascale

(

Palgrave Macmillan

,

2020

)

This is not only the best collection of essays on the political economy of Southeast Asia, but also, as a singular achievement of the "Murdoch School", one of the rarest of books that demonstrates how knowledge production ...

Hatcher, Pascale

;

Grugel JB

;

Singh JN

(

UNRISD

,

2016

)

The surging investments in the extractive industries (EI) that began in the 1980s, as well as the commodity boom between 2002 and 2011, have increased the significance of the sector in national economic development. This ...