The simulation of fixed-bed ion exchange columns
(1973)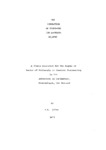 View/Open
Type of Content
Theses / Dissertations
Thesis Discipline
Chemical Engineering
Degree Name
Doctor of Philosophy
Publisher
University of Canterbury
Language
English
Collections
Abstract
The equations for the fixed-bed ion exchange process have been rigorously solved to give breakthrough curves using analog, digital and hybrid computers.
The models developed for the ion exchange column process are general enough to include:- • Linear and non-linear equilibrium • Constant or variable separation factor • Mass transfer resistance in either the solution or the resin phase, or both • Axial dispersion • General initial conditions for column presaturation • Arbitrary boundary conditions for partial or complete break- through curves.
Results indicate that simple rate relations are adequate to express column behaviour for most requirements. In particular, the Thomas model as developed by Hiester and Vermeulen is easy to use and sufficiently accurate for normal applications.
A comparison of computed results with experimental data has shown that the ion exchange column process can be accurately simulated. However, this required the use of a variable separation factor for some systems.
Related items
Showing items related by title, author, creator and subject.
Dechapunya, A.

(

University of Canterbury. Chemical Engineering

,

1981

)

A mathematical model based on the Nernst-Planck equations has been developed to describe multicomponent ion exchange process. Digital computer programs have been written in FORTRAN IV to solve the equations of the model ...

Dimartino, S.

;

Wislang, S.

;

Schadock-Hewitt, A.

;

Marcus, R.K.

;

Fee, C.J.

(

University of Canterbury. Chemical and Process EngineeringUniversity of Canterbury. College Office (Engineering)University of Canterbury. Biomolecular Interaction Centre

,

2014

)

Reynolds, Benjamin Wynne

(

University of Canterbury

,

2020

)

3D printing allows the manufacture of novel processing equipment including heat exchangers. A wide variety of different heat exchanger designs exist, and the usage of each depends on the application for which they are ...