The politics of development : neo-Marxist approaches to New Zealand history
(1990)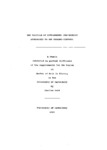 View/Open
Type of Content
Theses / Dissertations
Thesis Discipline
History
Degree Name
Master of Arts
Publisher
University of Canterbury
Language
English
Collections
Abstract
This thesis will critically evaluate the nee-Marxist interpretations of New Zealand history propounded by David Bedggood, Rob Steven and Warwick Armstrong. This critique finds that the theoretical models adopted by these neo­ Marxists have gaps and contradictions and do not conform to the historical record.
We will find that these interpretations misconstrue the nature and causes of certain aspects of New Zealand history. Firstly, .the annexation of New Zealand in 1840 was not explicable in terms of Britain's need to provide itself with an outlet for surplus population. Secondly, New Zealand's affluence was not the result of its ability to exploit its trading partners via a global system of unequal exchange. Thirdly, New Zealand's dependence on a narrow range of export staples was not the result of a domestic ruling class perusing policies which were specifically designed to satisfy the productive and consumptive needs of British capitalism.
Overall, the development of New Zealand provides the neo Marxist theory of "world-systems analysis" with one of its most crucial objections.
Rights
All Rights Reserved