Nanostructured heterogeneous catalysts for green oxidation processes
(2014)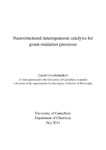 Embargoed for:
24
Type of Content
Theses / Dissertations
Thesis Discipline
Chemistry
Degree Name
Doctor of Philosophy
Publisher
University of Canterbury. Chemistry
Collections
Abstract
The development of sustainable, environmentally benign oxidation processes of organic compounds is an important task for chemical industry. This challenge can be addressed by designing catalysts that enable the utilisation of molecular oxygen as an oxidant. The work in this thesis is focused on the development of heterogeneous catalysts for the selective aerobic oxidation of various organic compounds. The first part of the thesis (Chapters 3 and 4) covers the study of bifunctional gold catalysts for the solvent-free aerobic oxidation of cyclohexene, with a particular focus on tuning the selectivity of the catalyst. Various characterisation techniques (such as TEM, diffuse-reflectance UV-Vis spectroscopy, XPS), catalytic experiments and kinetic studies were used to investigate the nature of catalyst functionality and establish the optimal structure of a gold catalyst. The second part of the thesis (Chapter 5) covers the study of the photocatalytic activity of hydrous ruthenium oxide deposited on TiO₂ in the aerobic oxidation of amines to nitriles under irradiation with visible light. The effect of the wavelength of the utilised light, applicability of the Sun as light source and water as a solvent were investigated. High catalytic activity of ruthenium-based catalyst was demonstrated for various benzylic and aliphatic amines. Various mechanistic studies were performed, based on which the mechanism of photocatalysis was suggested.
Keywords
catalysis; oxidation; nanoparticle; photocatalysis
Rights
Copyright Daniil Ovoshchnikov