The Fire Safety Design of Apartment Buildings
(2001)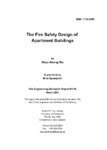 View/Open
Type of Content
Reports
Publisher
University of Canterbury. Civil Engineering
ISSN
1173-5996
Abstract
In Australia and New Zealand, residential buildings have the highest number of fire fatalities each year, compared to any other occupancy type. The majority of these fatalities occur in single family dwellings, but a proportion of these fatalities occur in apartment buildings. Apartment building fires also have the potential to be high fatality fires, due to greater occupant numbers and more complex egress paths. With the movement away from prescriptive building codes, building fire safety design can become more efficient and effective. This should ultimately result in equivalent or better fire safety for occupants, and economical savings with respect to the building codes. The objective of this research report is to discuss the primary issues concerning apartment buildings and to provide a guidance matrix for the fire safety design of apartment buildings, that comprehensively integrates all aspects of fire safety. The fire safety design matrix is presented as a three by two matrix, which recommends minimum fire safety measures based on building height, sprinkler protection and the building emergency plan. The selection of fire safety measures is based on providing multiple levels of protection for the occupants, and addressing the primary characteristics of different apartment buildings.
Rights
Copyright Shao-Hoong Wu
Related items
Showing items related by title, author, creator and subject.
Young, Elizabeth Anne

(

University of Canterbury. Civil and Natural Resources Engineering

,

2007

)

This purpose of this research was to develop a credible set of furniture design fires for residential/apartment buildings and determine a methodology for incorporating compartment effects in design fires. Design fires ...

Moss, P.J.

;

Dhakal, Rajesh

;

Bong, M.W.

;

Buchanan, A.H.

(

University of Canterbury. Civil and Natural Resources Engineering

,

2009

)

This paper describes a study into the fire behaviour of steel portal frame buildings at elevated temperatures using the finite element programme SAFIR. The finite element analysis carried out in this report is three ...

McGhie, Craig

(

University of Canterbury

,

2007

)

The key objective of the project was to develop a risk ranking model to assess the apparent level of safety of buildings designed to the Approved Document for New Zealand Building Code, Fire Safety Clauses C1, C2, C3, ...