Mixing in Fire Induced Doorways Flows
(1996)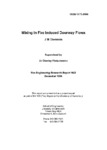 Type of Content
Reports
Publisher
University of Canterbury. Civil Engineering
ISSN
1173-5996
Abstract
This report is a review of the mixing that occurs in fire induced gas flows through a doorway. The purpose of the report to provide a basis from which launch future experimental investigations. A detailed review is presented of the past research concerned with mixing in doorway flows. A number of fluid dynamic aspects associated with doorway flows are examined. The current zone model approximations, used to account for the mass transfer associated with vent flow mixing, are discussed. Theory for salt water modelling of fire induced gas flows through a compartment doorway is presented, and a relationship for the correct modelling of the volumetric flux is derived. This document concludes by detailing a number of specific aspects associated with doorway flows that require further research. An outline for future experimental work to be undertaken by the author is also presented.
Rights
Copyright J M Clements
Related items
Showing items related by title, author, creator and subject.
CLARK, L. R.

(

University of Canterbury

,

2002

)

This report investigates the effect of including a partially closed door in a doorway on the fire-induced flow through the doorway. This was investigated through a series of full-scale fire experiments. These were performed ...

Clement, Jason Mark

(

University of Canterbury. Civil Engineering

,

2000

)

The objective of this research has been to verify the hydrodynamic model that is contained within the Fire Dynamics Simulator (FDS). In the first part of the research, a series of buoyant salt water experiments have been ...

Zawar-Reza, Peyman

(

University of Canterbury. Environmental Science

,

2000

)

Atmospheric flows that result from surface heating and cooling in complex, mountainous terrain encompass many scales. These flows are induced by horizontal thermal gradients in the atmosphere associated with topographic ...