The Influence of Non-Uniform Electric Fields on Combusion Processes
(1996)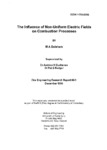 View/Open
Type of Content
Reports
Publisher
University of Canterbury. Civil Engineering
ISSN
1173-5996
Abstract
This report investigates the application of electric fields to flames and fires. An extensive literature review covers the empirical data available on the electric field effects on combustion characteristics. Authors attribute the mechanism to electrostatic forces on ions and an electrically induced air movement called corona wind Experimentation was carried out which verifies some of these effects. A test was performed to show that wood becomes fire resistant when a DC high voltage on the onset of breakdown was applied between the wood and the heat source. Maximum burning resistance was achieved at the electrical breakdown voltage which coincided with a leakage current flow of approximately 20 μA. At lower voltages, wood fire enhancement was discovered in some circumstances. High voltage was shown to have a greater influence on the burning from a diffusion flame than by a premixed flame heat source. The extent of burning was dependent on electrode shape with a single protruding nail causing more resistance to burning than other electrode geometries tried. Voltage polarity was shown to not to be significant to the extent of the burning. High voltage was also shown to significantly reduce the extent of wood burning from a horizontal radiant heat source. It was discovered that in some circumstances, high voltage will extinguish flames on burning wood. This electrical control of combustion was discovered to have large influence on combustion by convective heating but little effect on radiant heating. The mechanism is suggested to be a complex mixture of corona wind, electrostatic force on flame ions and electrostatic disruption of convective heat flow.
Rights
Copyright M A Belsham
Related items
Showing items related by title, author, creator and subject.
Marshall A

;

Landon-Lane L

;

Downard A

(

2020

)

Redox flow batteries (RFBs) are a promising technology for the storage of intermittent renewable energy. Graphite and carbon felts electrodes are commonly used in RFBs as they typically exhibit good conductivity, high ...

Pancholy PP

;

Clemens K

;

Geoghegan P

;

Jermy M

;

Moyers-Gonzalez M

;

Wilson PL

(

2017

)

The aim of this study is to provide input into knowledge-based expert systems by providing mean wind speed at the entire pedestrian level street width. The air flow around an individual building is complex. Around two ...

Ramsay J

;

Sellier M

;

Ho WH

(

2020

)

Boundary layer separation negatively influences the performance of aerospace vehicles, for example, by triggering static stall or reducing combustion engine efficiency. Developing effective flow control to delay or eliminate ...