Counter colonization through Maori language revitalization in Aotearoa/New Zealand
(2012)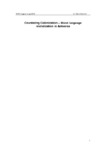 View/Open
Publisher
University of Canterbury. School of Maori, Social and Cultural Studies in Education
Collections
Abstract
This explores some of the influences shaping early year's Maori language education in Aotearoa New Zealand. Drawing on Garcia's (2009) socio-historical stages of language orientation, Maori language socio-historical developments within which Maori language regeneration efforts reside is juxtaposed with this wider global context. Also drawing on Waitangi Tribunal (2010) findings these are viewed alongside developments in Maori language education highlighting how public policy has been slow to keep up with the pace of change. Referred to as 'leaden-footed', the Crown has stymied advancements, making the difficulties of Maori language survival a politically constructed problem, not linguistic. It grapples with the question of how Maori language as an official language is officially excluded in curriculum.
Citation
Skerrett, M.E. (2012) Counter colonization through Maori language revitalization in Aotearoa/New Zealand. University Park, PA, USA: 20th Reconceptualizing Early Childhood Education Conference, 4-7 Nov 2012.
This citation is automatically generated and may be unreliable. Use as a guide only.
ANZSRC Fields of Research
45 - Indigenous studies::4507 - Te ahurea, reo me te hītori o te Māori (Māori culture, language and history)::450712 - Te mātai i te reo Māori me te reo Māori (Māori linguistics and languages)
13 - Education::1302 - Curriculum and Pedagogy::130206 - Köga Reo (Māori Language Curriculum and Pedagogy)
Related items
Showing items related by title, author, creator and subject.
King, Jeanette

;

Brown, Christine

;

Boyce, Mary

(

University of Canterbury. Aotahi School of Māori and Indigenous StudiesUniversity of Canterbury. AVC MāoriUniversity of Canterbury. New Zealand Institute of Language, Brain & Behaviour

,

2015

)

As present we know too little about how children are using te reo Māori in immersion classrooms. The Tuhinga Māhorahora project significantly adds to our understanding by analysing children's writing in Māori and providing ...

Abstract: Ongoing developments in e-learning, improved internet accessibility and increased digital citizenry provide exciting opportunities to integrate effective classroom pedagogies with online educational technologies, ...

Oh Y

;

Needle J

;

Todd, Simon

;

Beckner, Clay

;

Hay, Jennifer

;

King, Jeanette

(

Springer Science and Business Media LLC

,

2020

)

We investigate implicit vocabulary learning by adults who are exposed to a language in their ambient environment. Most New Zealanders do not speak Māori, yet are exposed to it throughout their lifetime. We show that this ...