Does Speaker Age Affect Speech Perception in Noise in Older Adults?
(2013)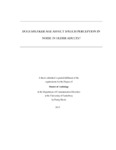 Type of Content
Theses / Dissertations
Thesis Discipline
Audiology
Degree Name
Master of Audiology
Publisher
University of Canterbury. Department of Communication Disorders
Collections
Abstract
Purpose: To investigate the effects of speaker age, speaker gender, semantic context, signal-to-noise ratio (SNR) and a listener's hearing status on speech recognition and listening effort in older adults. We examined the hypothesis that older adults would recognize less speech and exert greater listening effort when listening to the speech of younger versus older adult speakers. Method: Speech stimuli were recorded from 12 adult speakers classified as "younger" (three males and three females aged 18-31 years) and "older" (three males and three females aged 69-89) respectively. A computer-based subjective rating was conducted to confirm that the speakers were representative of younger and older speakers. Listeners included 20 older adults (aged 65 years and above), who were divided into two age-matched groups with and without hearing loss. All listening and speaking participants in the study were native speakers of New Zealand English. A dual-task paradigm was used to measure speech recognition and listening effort; the primary task involved recognition of target words in sentences containing either high or low contextual cues, while the secondary task required listeners to memorise the target words for later recall, following a set number of sentences. Listening tasks were performed with a variety of listening conditions (quiet, +5 dB SNR and 0dB SNR). Results: There were no overall differences in speech recognition scores or word recall scores for the 20 older listeners, when listening to the speech of the younger versus older speakers. However, differential effects of speaker group were observed in the two semantic context conditions (high versus low context). Older male speakers were the easiest to understand when semantic context was low; however, for sentences with high semantic context, the older male group were the most difficult to understand. Word recall scores were also significantly higher in the most challenging listening condition (low semantic context, 0 dB SNR), when the speaker was an older male. Conclusion: Differential effects of speaker group were observed in the two semantic context conditions (high versus low context) suggesting that different speech cues were used by listeners, as the level of context varied. The findings provide further evidence that, in challenging listening conditions, older listeners are able to use a wide range of cues, such as prosodic features and semantic context to compensate for a degraded signal. The availability of these cues depends on characteristics of the speaker, such as rate of speech and prosody, as well as characteristics of the listener and the listening environment. .
Keywords
older listeners; speech recognition; listening effort; hearing loss; speaker age; semantic context; dual task paradigm
Rights
Copyright Penny Harris