Feasibility of continuous scrubbing of CO₂ from air at atmospheric pressure using amine temperature swing chemistry.
(2004)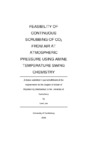 View/Open
Type of Content
Theses / Dissertations
Thesis Discipline
Mechanical Engineering
Degree Name
Master of Engineering
Publisher
University of Canterbury. Mechanical Engineering
Collections
Abstract
Fuel cells are touted as the workhorses of any future hydrogen economy, intended as decentralised power generators, car engines or for domestic uses. One of the varieties of fuel cells, the Alkaline Fuel Cell (AFC), has had a proven track record in space programmes, and relies on a mature technology developed from the late 50's - but is susceptible to trace amount of carbon dioxide. This project details the feasibility of using an amine/glycol/water solution to scrub carbon dioxide from an air stream from a chemical viewpoint. Nuclear magnetic resonance (NMR) was used as the primary means of chemical analysis and equilibria studies were performed. The role of oxidation and corrosion were also investigated during the course of investigation. It was found that the use of an amine/glycol/water solution in a carbon dioxide scrubber was technically feasible and that the role of oxidation is unlikely to be a significant issue. Corrosion studies suggested that the addition of glycol resulted in a decrease in the overall corrosion rate, and that an increase of amine concentration beyond 35% did not significantly increase the rate of corrosion.