Quaternary geology and stratigraphy of North Westland, South Island, New Zealand.
(2011)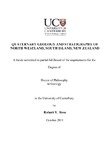 View/Open
Type of Content
Theses / Dissertations
Thesis Discipline
Geology
Degree Name
Doctor of Philosophy
Publisher
University of Canterbury. Geological Sciences
Collections
Abstract
Infrared stimulated luminescence ages are presented from the North Westland region, West Coast, South Island, New Zealand. These ages span much of the last interglacial-glacial cycle from 123.3 ± 12.7 ka to 33.6 ± 3.6 ka. Coverage is extended to c. 14 ka via cosmogenic isotope dating. A new Quaternary stratigraphy and Marine Isotope Stage correlation is proposed for the on-shore glacial-interglacial fluvioglacial, fluvial and marine terrace sequence. The new model incorporates previously published luminescence and radiocarbon ages. It necessitates reinterpretation of the evolution of the climate in North Westland for the period from 123 ka to 14 ka. Reinterpretation of fossil pollen and plant macrofossil records implies a period of probable near-interglacial climate in North Westland during the early to middle portion of Marine Isotope Stage 3. It also implies the presence in North Westland of raised marine terraces dating from this Isotope Stage. In addition it is concluded that during the period from c.60 ka to c.50 ka podocarp dominated forest was widespread in the lowland portion of Westland. Between Okarito and Westport Dacrydium cupressinum and Nestegis were ubiquitous components of this forest. This finding aligns the Marine Isotope Stage 3 climate of North Westland nicely with that of other parts of New Zealand where good records exist for this period.
Rights
Copyright Robert Vaughan Rose
Related items
Showing items related by title, author, creator and subject.
Rose, Robert Angus

(

University of Canterbury. Department of Biological Sciences

,

2004

)

This study investigates the role that climate and human intervention, have on local and regional fire regimes on the East Coast of the South Island, New Zealand during the second half of the Holocene. Continuous sampling ...

Monteith, Fraser Daniel

(

University of Canterbury

,

2015

)

The Late Palaeocene to Middle Eocene geological history of New Zealand is characterised by tectonic quiescence the development of an extensive unconformity. This period represents the time between cessation of spreading ...

McGlone, Matthew Sean

(

University of Canterbury. Botany

,

1980

)

23 sites in the central North Island of Otiran and Aranuian age (Last Glaciation and post-glacial) were pollen analysed. Three regions were examined in detail: Taranaki, Taupo-Tongariro and Bay of Plenty. For most of the ...