Digital transmission: Spectrally efficient techniques
(1984)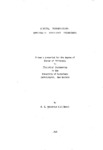 View/Open
Type of Content
Theses / Dissertations
Thesis Discipline
Electrical Engineering
Degree Name
Doctor of Philosophy
Publisher
University of Canterbury. Electrical Engineering
Collections
Abstract
Spectrally efficient methods of digital transmission are studied, with particular emphasis on vestigial sideband (VSB) signalling. A general overview of digital transmission techniques gives a basis for more detailed studies into the areas of interest. Alternative methods of generating and detecting VSB are covered, offering possible ways of simplifying system implementation. A method of synchronizing VSB is proposed and analysed, giving a simple solution to the synchronization problem. VSB, as a spectrally efficient signalling format, is shown to be suitable for transmission over nonlinear channels; its performance comparing favourably with alternative systems. A new method of attaining spectrally efficient transmission is analysed. This combines VSB and quadrature modulation to obtain a signal with double the spectral efficiency of VSB. With suitable decoding this increased spectral efficiency is obtained at the expense of only a small sacrifice in power efficiency.
Rights
Copyright Brian Gordon Henderson
Related items
Showing items related by title, author, creator and subject.
Cameron, Gordon

(

University of Canterbury. Electrical and Electronic Engineering

,

1993

)

Harmonic current flows within High Voltage transmission lines induce voltages in neighbouring metallic conductors be they fences, pipelines, other transmission lines or telecommunications cables. These voltages may endanger ...

Clark, Geoffrey Stuart Williamson

(

University of Canterbury. Computer Science and Software Engineering

,

2012

)

A masters thesis focussing on achieving improvements in transmission reliability and energy efficiency for a battery-powered wireless sensor node on the edge of an industrial heterogeneous wireless network that consists ...

Weir, Lindsay Brian

(

University of Canterbury. Computer Science

,

1994

)

Research students within the Psychology Department at the University of Canterbury are involved in exploring emotional responses of human behaviour. Experiments of subjects are video taped and the tapes are subsequently ...