Initial Teacher Education Policy and Practice
(2005)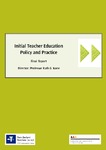 Type of Content
Reports
Publisher
University of Canterbury. School of Literacies and Arts in Education
Collections
Authors
Kane, R.G.
Burke, Pam
Cullen, Joy
Davey, Ronnie
Jordan, Barbara
McCurchy-Pilkington, C.
Mansell, Ruth
MacIntyre, Lesieli
Scrivens, Cushla
Simpson, Mary
Stephens, Cheryl
Waiti, Pauline
Butler, Philippa
Godin-McKerras, L.
show all
Abstract
The purpose of this study was to generate a systematic description of policy and practice across qualifications of initial teacher education in Aotearoa New Zealand. The study was conducted in two phases. Data from publicly-available documentation of the 27 providers of initial teacher education were recorded in an electronic data base as a means of compiling individual profiles of each qualification. Subsequently, twenty-five providers participated in interviews to ensure that profiles accurately reflected the policy and practice of the qualification. Qualification profiles were reviewed to identify common and distinctive characteristics of initial teacher education according to sector (early childhood, primary and secondary), type of qualification and type of provider. Findings were considered within a framework of contemporary national and international research and implications identified for future research, policy and practice in initial teacher education. This project confirms that initial teacher education is incredibly complex and multi-faceted and that New Zealand qualifications reflect many of the achievements and the challenges of implementing quality teacher education that are experienced internationally. The official documentation reveals that there is a general lack of explicit coherence among components of many qualifications, that in some cases there is no clearly articulated conceptual or theoretical base underpinning qualifications, and, that, in the documentation of many qualifications, there are conspicuous silences surrounding aspects of initial teacher education critical to the New Zealand context. There is also evidence that the regulatory and compliance environment within which providers operate is sometimes perceived as distracting, rather than ensuring quality. This national project has enabled us to identify key areas for further and ongoing attention both by individual providers of initial teacher education and, more importantly, by the professional community of teacher education in collaboration with the Ministry of Education, the New Zealand Teachers Council and others. We need to determine, and thence articulate more clearly, the fundamental goals of initial teacher education and to demonstrate how programmes of ITE are coherent in their underlying values, goals, design, curriculum, pedagogy and implementation. There is a need also to consider how current external quality assurance processes can be made more coherent with fundamental goals of initial teacher education and the research on theory and practice that underpins these goals.
Citation
Kane, R.G., Burke, P., Cullen, J., Davey, R., Jordan, B., McCurchy-Pilkington, C., Mansell, R., MacIntyre, L., Scrivens, C., Simpson, M., Stephens, C., Waiti, P., Butler, P., Godin-McKerras, L. (2005) Initial Teacher Education Policy and Practice. Ministry of Education. 301pp..
This citation is automatically generated and may be unreliable. Use as a guide only.
Keywords
initial teacher education; preservice teacher education; teacher training
ANZSRC Fields of Research
13 - Education::1303 - Specialist Studies in Education::130313 - Teacher Education and Professional Development of Educators
Related items
Showing items related by title, author, creator and subject.
Fickel LH

;

Abbiss J

;

Brown E

;

Astall C

(

Informa UK Limited

,

2018

)

© 2018 Taylor & Francis Group, LLC. Culturally responsive teaching is an essential component of reframing educator preparation for equity and has particular resonance when working in partnership with indigenous communities. ...

Fickel L

;

Abbiss J

(

Texas Tech University

,

2019

)

<jats:p>In Aotearoa New Zealand, as in many pluralistic democracies, the continuing disparity in educational outcomes has resulted in a growing call for changes in teacher preparation to better support culturally diverse ...

Dabner, N.

(

University of Canterbury. School of Teacher Education

,

2015

)

Effective beginning teachers require the digital citizenship and digital literacy skills that will enable them to participate ethically and safely, and teach effectively, in complex, digitally saturated classroom learning ...