The Incidence and Cost of New Onset Hyperlipidemia Claims Among US Wait-Listed and Transplanted Renal Allograft Recipients
(2010)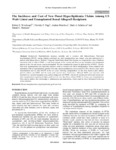 View/Open
Type of Content
Journal Article
Publisher
University of Canterbury. Department of Economics and Finance
ISSN
1874-4184
Collections
Authors
Woodward, R.S.
Page, T.F.
Menclova, A.
Schnitzler, M.A.
Brennan, D.C.
show all
Abstract
Background: Hyperlipidemia increases mortality and is common with kidney-disease. New-onset hyperlipidemia (NOHL) among patients wait-listed and after transplantation may impact costs and graft-survival of patients with kidney disease. Methods: Using the United States Renal Data System, we compared the costs to Medicare associated with or without NOHL in wait-listed patients in the second and first year pre-transplant and transplanted patients in the first and second year post-transplant. We also examined the impact on graft-survival of NOHL. Results: New onset hyperlipidemia was especially expensive when it occurred well before transplantation. When compared with individuals with no hyperlipidemia, patients with early onset hyperlipidemia cost an extra $15,228 in the two years before transplantation and an extra $14,673 in the two years following transplantation. As has been found in prior studies, patients without any NOHL had the worst graft survival rates. Conclusions: Although NOHL was associated with increased pre- and post-transplant costs, patients diagnosed with NOHL between the second year before and second year after transplantation experienced higher graft-survival rates than those without NOHL by 2-years post-transplantation. Prior studies attribute this relationship to inflammation and malnutrition, which result in lower cholesterol levels and worse outcomes.
Citation
Woodward, R.S., Page, T.F, Menclova, A., Schnitzler, M.A., Brennan, D.C. (2010) The Incidence and Cost of New Onset Hyperlipidemia Claims Among US Wait-Listed and Transplanted Renal Allograft Recipients. The Open Transplantation Journal, 4, pp. 5-13.
This citation is automatically generated and may be unreliable. Use as a guide only.
Keywords
renal transplantation; hyperlipidemia; graft survival
ANZSRC Fields of Research
11 - Medical and Health Sciences
38 - Economics::3801 - Applied economics::380108 - Health economics
Related items
Showing items related by title, author, creator and subject.
Mackenbach JD

;

McLeod GFH

;

Boden JM

;

Marek, Lukas

;

Wiki, Jesse

;

Hobbs, Matthew

(

Elsevier BV

,

2021

)

Background: While it is likely that changing food environments have contributed to the rise in obesity rates, very few studies have explored historical trends in the food environment with little, if any, consideration at ...

Crampton, E.

;

Burgess, M.

;

Taylor, B.

(

University of Canterbury. Department of Economics and Finance

,

2012

)

Studies based on a cost of illness method frequently assert large social costs from a variety of risky activities, the harms from which most typically fall upon the risk-taker himself. Many of these costs are inadmissible ...

Menclova, A.

;

Webb, R.

(

University of Canterbury. Department of Economics and Finance

,

2015

)

New Zealand, along with the US and Australia, has one of the highest asthma rates among developed countries and previous analyses attribute this partly to insufficient home heating in certain neighborhoods. International ...