Imposing spatio-temporal support in magnetic resonance angiographic imaging
(2010)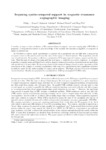 View/Open
Type of Content
Conference Contributions - Published
Publisher
University of Canterbury. Electrical and Computer Engineering
University of Canterbury. Physics and Astronomy
Collections
Authors
Bones, P.J.
Vafadar, B.
Watts, R.
Wu, B.
show all
Abstract
A method to improve time resolution in 3D contrast-enhanced magnetic resonance angiography (CE-MRA) is proposed. A temporal basis based on prior knowledge of the contrast flow dynamics is applied to a sequence of image reconstructions. In CE-MRA a contrast agent (gadolinium) is injected into a peripheral vein and MR data is acquired as the agent arrives in the arteries and then the veins of the region of clinical interest. The acquisition extends over several minutes. Information is effectively measured in 3D k-space (spatial frequency space) one line at-atime. That line may be along a Cartesian grid line in k-space, a radial line or a spiral trajectory. A complete acquisition comprises many such lines but in order to improve temporal resolution, reconstructions are made from only partial sets of k-space data. By imposing a basis for the temporal changes, based on prior expectation of the smoothness of the changes in contrast concentration with time, it is demonstrated that a significant reduction in artifacts caused by the under-sampling of k-space can be achieved. The basis is formed from a set of gamma variate functions. Results are presented for a simulated set of 2D spiral-sampled CE-MRA data.
Citation
Bones, P.J., Vafadar, B., Watts, R., Wu, B. (2010) Imposing spatio-temporal support in magnetic resonance angiographic imaging. San Diego, USA: Image Reconstruction from Incomplete Data VI, 2-3 Aug 2010. Proceedings of SPIE, 7800, 780007(1-10).
This citation is automatically generated and may be unreliable. Use as a guide only.
ANZSRC Fields of Research
11 - Medical and Health Sciences::1103 - Clinical Sciences::110320 - Radiology and Organ Imaging
32 - Biomedical and clinical sciences::3201 - Cardiovascular medicine and haematology::320101 - Cardiology (incl. cardiovascular diseases)
Related items
Showing items related by title, author, creator and subject.
Campbell, J.D.

;

Pretty, C.G.

;

Bones, P.J.

;

Chase, Geoff

(

2019

)

Revie, J.A.

;

Stevenson, D.

;

Chase, Geoff

;

Pretty, C.G.

;

Lambermont, B.C.

;

Ghuysen, A.

;

Kolh, P.

;

Shaw, Geoff

;

Desaive, T.

(

University of Canterbury. Mechanical Engineering

,

2013

)

Introduction. The accuracy and clinical applicability of an improved model-based system for tracking hemodynamic changes is assessed in an animal study on septic shock. Methods. This study used cardiovascular measurements ...

Dowding S

;

Zakkaroff C

;

Moore S

;

David T

(

2018

)

© 2018 Frontiers Media S.A.All right reserved. This work investigates the effect of arterial bifurcation angulation on atherosclerosis development through in-silico simulations of coupled cell dynamics. The computational ...