Where the rubber hits the road less travelled: bridging technical and cultural understandings of marae on-site wastewater treatment and disposal
(2008)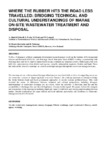 Type of Content
Conference Contributions - Published
Publisher
University of Canterbury. Health Sciences Centre
Collections
Authors
Ahuriri-Driscoll, A.
Foote, J.
Hepi, M.
Leonard, M.
Rogers-Koroheke, M.
Taimona, H.
show all
Abstract
Te Riu o Hokianga is a Maori community development research project involving the Institute of Environmental Science and Research (ESR) Ltd and Hokianga Health Enterprise Trust (HHET) working in partnership with Hokianga hapu and iwi to improve marae-based sewage treatment and disposal systems. Multi-agency hui were held with representatives from district and regional councils, independent engineers, funders and hapu. These hui surfaced the idea of a 'roadmap' as a tool to assist hapu navigate through the wastewater management area.
The roadmap sets out a tikanga-based kaupapa Maori process associated with activities for upgrading marae on-site wastewater systems. In supporting hapu wastewater 'literacy', the roadmap represents an attempt to bridge the divide between hapu and local government approaches to on-site systems problems/issues. This work revealed the extent of differences between technical and cultural perspectives, including divergent understandings of wastewater discharge and its effects, where the authority to determine land use and the acceptability of discharges lies, and the role/legitimacy of marae in this regard. This paper outlines the strengths and weaknesses of the roadmap in mediating hapu and council worldviews and creating understanding between parties. Broader implications for mana whenua and local authority partnership and excellence in wastewater management are also discussed.
Citation
Ahuriri-Driscoll, A., Foote, J., Hepi, M., Leonard, M., Rogers-Koroheke, M., Taimona, H. (2008) Where the rubber hits the road less travelled: bridging technical and cultural understandings of marae on-site wastewater treatment and disposal. Christchurch, New Zealand: Proceedings of the 2008 New Zealand Water and Waste Association Conference, 25-28 Sep 2008.
This citation is automatically generated and may be unreliable. Use as a guide only.
Related items
Showing items related by title, author, creator and subject.
Ahuriri-Driscoll, A.

;

Foote, J.

;

Hepi, M.

;

Rogers-Koroheke, M.

;

Taimona, H.

;

Broodkoorn, M.

(

Institute of Environmental Science & ResearchUniversity of Canterbury. Health Sciences Centre

,

2008

)

In accordance with the broad aims of community development, Māori community development is undertaken primarily to enhance the wellbeing of Māori collectives. Māori community development constitutes both the desired outcome ...

Winstanley A

;

Ahuriri-Driscoll A

;

Hepi M

;

Baker V

;

Foote J

(

Informa UK Limited

,

2016

)

© 2016 ESR. This paper claims that participatory approaches to water resource management in New Zealand are highly influenced by how institutional and community actors understand and practise democracy, including indigenous ...

Baker, V.

;

Ahuriri-Driscoll, A.

;

Foote, J.

;

Hepi, M.

;

Winstanley, A

(

University of Canterbury. Health Sciences Centre

,

2009

)