Discourse Analysis and International Politics: Rethinking Relations between the United States and China
(2007)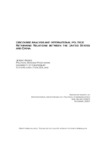 View/Open
Publisher
University of Canterbury. School of Social and Political Sciences
University of Canterbury. Political Science
Collections
Abstract
With the re-emergence of China as an economic powerhouse and growing military presence in the Asia-Pacific, we are now beginning to see the re-inscription of boundaries between China and the United States, which have the potential to intensify a sense of fear about what the future holds. In this context, it is necessary to ask some critical questions about the nature of this relationship and the assumptions that underpin the dominant interpretations of it. It is also essential that we remain suspicious of any attempts to portray the relationship between these 'great powers' as one of intractable hostility and inevitable rivalry that can only be managed through the threat or exercise of military force. Any attempt to reconstruct the dynamics of the Cold War 'balance of terror' should, therefore, be resisted if we are serious about building a more secure and prosperous world. But the questions remain: How can mutual trust and understanding be built amid an anarchical international order? How can differences over political and social organisation be set aside in pursuit of a better future? Is there any coherent way of challenging the embedded norms of international relations in order to prevent the onset of yet another costly and violent battle between two great powers? In order to more fruitfully explore these issues, this paper will give an overview of the critical challenges posed by new theories of discourse to the dominant paradigms of international relations. It will begin with an explanation of the key principles of contemporary discourse theory and conclude with some critical reflections on the current state of relations between China and the United States. In particular, it will seek to break down the sense of inevitability that figures in many analyses of the relationship between China and the United States and suggest that there is a need for those in journalism and academia to resist easy conclusions about the nature of the 'other' that would only harden the boundaries between the people of the two countries and lead to an intensification of hostilities with the potential for military conflict.
Citation
Moses, J. (2007) Discourse Analysis and International Politics: Rethinking Relations between the United States and China. Wuhan, China: International Conference on Political Communication, October 2007.
This citation is automatically generated and may be unreliable. Use as a guide only.
ANZSRC Fields of Research
44 - Human society::4408 - Political science::440808 - International relations
Related items
Showing items related by title, author, creator and subject.
Moses, Jeremy

(

University of Canterbury. School of Language, Social and Political SciencesUniversity of Canterbury. Political Science and International Relations

,

2008

)

Moses, J.

(

University of Canterbury. School of Social and Political SciencesUniversity of Canterbury. Political Science

,

2006

)

The bonds of common purpose that unite British Prime Minister Tony Blair and U.S. President George W. Bush have been evident for many years now. It is no longer surprising – if it ever was – to find Blair wholeheartedly ...

Chaban N

;

Matheson D

;

Kenix L

(

2019

)