Moral Triumphalism in Recent Australian Foreign Policy: Harsh Lessons from Timor-Leste and the Solomon Islands
(2006)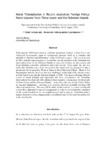 View/Open
Type of Content
Conference Contributions - Other
Publisher
University of Canterbury. School of Social and Political Sciences
University of Canterbury. Political Science
Collections
Abstract
Following the 1999 intervention to quell the transitional violence in East Timor, the Australian Government began to vociferously promote itself as a defender and spreader of "freedom and democracy" in the Asia-Pacific region. This was followed, in 2003, with the surprising policy reversal that saw the insertion of the Australian-led intervention force in the Solomon Islands to stop civil violence in that country and begin building democratic institutions and a free society. Once again, the case was made that Australia was a force for good in the region and was prepared to take a prominent role in spreading Western values to those that lacked them. Much of this humanitarian rhetoric, however, has been challenged in the light of the chaotic scenes in both Timor Leste and the Solomon Islands in 2006. This paper will argue that the claims of moral triumph and superiority that have accompanied the Australian interventions have had and will continue to have negative consequences for the people of Timor Leste and the Solomon Islands – as has been the case for the United States in Iraq and Afghanistan – and may even generate otherwise avoidable tensions with other regional powers. The case will be made, in this context, for a more careful and conservative approach to regional engagement in order to avoid perpetual repetition of the social breakdown in our neighbourhood and to prevent Australian policy-makers from developing a dangerously over-inflated sense of their position and power in the Asia-Pacific.
Citation
Moses, J. (2006) Moral Triumphalism in Recent Australian Foreign Policy: Harsh Lessons from Timor-Leste and the Solomon Islands. Christchurch, New Zealand: New Zealand Political Studies Association (NZPSA) Conference, 28-29 Aug 2006.
This citation is automatically generated and may be unreliable. Use as a guide only.
ANZSRC Fields of Research
44 - Human society::4408 - Political science::440801 - Australian government and politics
44 - Human society::4408 - Political science::440807 - Government and politics of Asia and the Pacific
44 - Human society::4408 - Political science::440808 - International relations
Related items
Showing items related by title, author, creator and subject.
Young J

;

Tan, Alex

(

Informa UK Limited

,

2022

)

This special issue explores great power rivalry in the Indo-Pacific by moving the analytical focus away from the great powers and onto those they seek to influence. It asks what strategies states and international organisations ...

Clark, C.

;

Tan, A.C.

(

University of Canterbury. School of Social and Political SciencesUniversity of Canterbury. Political Science

,

2011

)

This paper develops a model of cross-Strait relations in terms of a series of four paradoxes. The first is that China's aggressiveness in initiating the Taiwan Strait Crisis of 1995-96 set off a series of contretemps between ...

Doidge, Mathew

(

University of Canterbury. National Centre for Research on Europe

,

2012

)

This paper explores the differing approaches to conceptualizing interregionalism that have stemmed from two distinct periods in the evolution of these group to group structures: the periods of the old and the new in ...