Probabilistic Seismic Performance Evaluation of Non Seismic RC Frame buildings
(2009)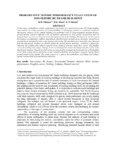 Type of Content
Journal Article
Publisher
University of Canterbury. Civil and Natural Resources Engineering
Collections
Authors
Maniyar, M.
Khare, R.K.
Dhakal, Rajesh
show all
Abstract
In this paper, probabilistic seismic performance assessment of a typical non-seismic RC frame building representative of a large inventory of existing buildings in developing countries is conducted. Nonlinear time-history analyses of the sample building are performed with 20 large-magnitude medium distance ground motions scaled to different levels of intensity represented by peak ground acceleration and 5% damped elastic spectral acceleration at the first mode period of the building. The hysteretic model used in the analyses accommodates stiffness degradation, ductility-based strength decay, hysteretic energy-based strength decay and pinching due to gap opening and closing. The maximum inter story drift ratios obtained from the time-history analyses are plotted against the ground motion intensities. A method is defined for obtaining the yielding and collapse capacity of the analyzed structure using these curves. The fragility curves for yielding and collapse damage levels are developed by statistically interpreting the results of the time-history analyses. Hazard-survival curves are generated by changing the horizontal axis of the fragility curves from ground motion intensities to their annual probability of exceedance using the log-log linear ground motion hazard model. The results express at a glance the probabilities of yielding and collapse against various levels of ground motion intensities.
Citation
Maniyar, M., Khare, R.K., Dhakal, R.P. (2009) Probabilistic Seismic Performance Evaluation of Non Seismic RC Frame buildings. Structural Engineering and Mechanics, 33(6).
This citation is automatically generated and may be unreliable. Use as a guide only.
Keywords
non-seismic; RC frames; Incremental Dynamic Analysis (IDA); seismic performance; fragility curves; yielding; collapse; hazard survival
ANZSRC Fields of Research
09 - Engineering::0905 - Civil Engineering
40 - Engineering::4005 - Civil engineering::400506 - Earthquake engineering
Related items
Showing items related by title, author, creator and subject.
Ebrahimi Koopaee, M.

;

Dhakal, Rajesh

;

MacRae, G.A.

(

University of Canterbury. Civil and Natural Resources Engineering

,

2015

)

Application of a fibre-element nonlinear modelling technique for seismic collapse capacity assessment of RC frame buildings in comparison with conventional lumped plasticity models is investigated in this paper. Constitutive ...

Chamlagain D

;

Niraula GP

;

Maskey PN

;

Bista MK

;

Tamrakar MR

;

Gautam BK

;

Ojha S

;

Acharya IP

;

Dhakal, Rajesh

(

2020

)

Being located in seismically active Himalayan mountain belt, Nepal has been the locus of many devastating earthquakes. The Mw 8.4 Bihar-Nepal earthquake of 1934 AD was the biggest earthquake disaster in Nepal that ...

Dhakal, Rajesh

;

Mander, J.B.

;

Mashiko, N.

(

University of Canterbury. Civil and Natural Resources Engineering

,

2006

)

A method is established to identify critical earthquake ground motions that are to be used in physical testing or subsequent advanced computational studies to enable seismic performance to be assessed. The ground motion ...