A non-homogeneous constitutive model for human blood. Part 1. Model derivation and steady flow
(2008)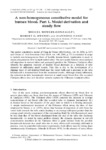 View/Open
Type of Content
Journal Article
Publisher
University of Canterbury. Mathematics and Statistics
ISSN
0022-1120
Collections
Authors
Moyers-Gonzalez, M.
Owens, R.G.
Fang, J.F.
show all
Abstract
The earlier constitutive model of Fang & Owens (Biorheology, vol. 43, 2006, p. 637) and Owens (J. Non-Newtonian Fluid Mech. vol. 140, 2006, p. 57) is extended in scope to include non-homogeneous flows of healthy human blood. Application is made to steady axisymmetric flow in rigid-walled tubes. The new model features stress-induced cell migration in narrow tubes and accurately predicts the Fahraeus-Lindqvist effect whereby the apparent viscosity of healthy blood decreases as a function of tube diameter in sufficiently small vessels. That this is due to the development of a slippage layer of cell-depleted fluid near the vessel walls and a decrease in the tube haematocrit is demonstrated from the numerical results. Although clearly influential, the reduction in tube haematocrit observed in small-vessel blood flow (the so-called Fahraeus effect) does not therefore entirely explain the Fahraeus-Lindqvist effect.
Citation
Moyers-Gonzalez, M., Owens, R.G. , Fang, J.F. (2008) A non-homogeneous constitutive model for human blood. Part 1. Model derivation and steady flow. Journal of Fluid Mechanics, 617, pp. 327-354.
This citation is automatically generated and may be unreliable. Use as a guide only.
Related items
Showing items related by title, author, creator and subject.
Laan N

;

de Bruin KG

;

Slenter D

;

Wilhelm J

;

Jermy M

;

Bonn D

(

2015

)

© 2015 Macmillan Publishers Limited. Bloodstain Pattern Analysis is a forensic discipline in which, among others, the position of victims can be determined at crime scenes on which blood has been shed. To determine where ...

Gray, C. M.

(

University of Canterbury. Chemistry

,

1929

)

When chloroform is condensed with 2 mols. of ethyl disodio-malonate in alcoholic solution ethyl sodio-dicarbethoxy-glutacomate (I) is formed. (Conrad and Guthzeit, Ann. 222 256.) [diagram here]. Under the proper conditions ...

Lin, J.

;

Razak, N.N.

;

Pretty, C.G.

;

LeCompte, A.J.

;

Docherty, P.D.

;

Parente, J.D.

;

Shaw, Geoff

;

Hann, C.E.

;

Chase, Geoff

(

University of Canterbury. Electrical and Computer EngineeringUniversity of Canterbury. Mathematics and StatisticsUniversity of Canterbury. Mechanical Engineering

,

2010

)

A comprehensive, more physiologically relevant Intensive Control Insulin-Nutrition- Glucose (ICING) Model is presented and validated using data from critically ill patients. Glucose utilisation and its endogenous production ...