Research Initiatives for Developing Passive-Treatment Technologies for Ameliorating Acid Mine Drainage in New Zealand
(2008)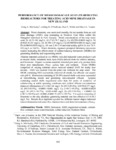 View/Open
Type of Content
Conference Contributions - Other
Publisher
University of Canterbury. Civil and Natural Resources Engineering
ISBN
978-1-60560-548-7
Collections
Authors
McCauley, C.A.,
O'Sullivan, A.D.,
Weber, P.A.,
Trumm, D.A.,
Brough, A.K.,
Milke, M.W.
show all
Abstract
Water chemistry was monitored monthly for ten months from an acid mine drainage (AMD) seep emanating at Stockton Coal Mine within the Mangatini watershed in New Zealand. Metal concentrations of the seep water were Fe (4.31-146 mg/L), Al (7.43-76.7 mg/L), Cu (0.0201-0.0669 mg/L), Ni (0.0629-0.261 mg/L), Zn (0.380-1.39 mg/L), Cd (0.000540-0.00134 mg/L) and Pb (0.0049-0.0056 mg/L), pH was 2.49-3.34 and total acidity (pH 8.3) was 78.5-626 mg/L as CaCO3. Water chemistry signature prompted laboratory mesocosm studies measuring the effectiveness of sulfate-reducing bioreactors (SRBRs) for generating alkalinity and sequestering metals. Alkaline materials utilized in the SRBRs included industrial waste products such as mussel shells, nodulated stack dust (NSD) derived from the cement industry, and limestone. Organic substrate materials included post peel, a by-product from fence post manufacture, Pinus radiata bark and compost. Seven SRBRs comprised of varying substrate mixes received aerated AMD for nearly four months. AMD was sourced from the pond that collected the seep water. The SRBR containing NSD successfully removed all metals, but effluent was caustic with pH>9. Bioreactors consisting of 20-30% mussel shells were most successful at immobilizing metals and generating circumneutral effluent. Systems containing mussel shells sequestered more than 0.8 moles of metals/m3 of substrate/day at stable operating conditions and yielded effluent concentrations (removal efficiencies) of 0.120-3.46 mg/L Fe (96.5-99.8%), 0.0170-0.277 mg/L Al (99.5-99.9%), <0.0005-<0.001 mg/L Cu (>99.7->99.9%), <0.0005-0.0020 mg/L Ni (99.3->99.7%), <0.001-0.005 mg/L Zn (99.7-99.9%), < 0.00005 Cd (>98.3->98.9%) and <0.0001-0.0001 Pb (99.5-<99.7%). The system consisting of limestone as the only alkalinity generating material was less effective (15.4-64.3 mg/L Fe). Results from duplicate systems but different reactor shapes indicated reactor dimensions influence flow characteristics and therefore treatment efficacy.
Citation
McCauley, C.A., O'Sullivan, A.D., Weber, P.A., Trumm, D.A., Brough, A.K., Milke, M.W. (2008) Research Initiatives for Developing Passive-Treatment Technologies for Ameliorating Acid Mine Drainage in New Zealand. Richmond, VA, USA: 25th Annual Meeting of the American Society of Mining and Reclamation, 14-19 Jun 2008.
This citation is automatically generated and may be unreliable. Use as a guide only.
Keywords
SRBR; bioreactor; AMD; engineered wetlands; vertical-flow wetlands; mine-water treatment; sulfate reduction; Stockton Mine