Modelo de geração de viagens com aplicação do sensoreamento remoto e dos sistemas de informação geográfica
(1997)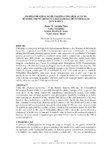 View/Open
Type of Content
Conference Contributions - Other
Publisher
University of Canterbury. Civil Engineering.
Collections
Authors
Taco, P.W.G.,
Yamashita, Y.,
Dantas, A.,
Souza, N.M.
show all
Abstract
Using the advanced technology of the Remote Sensing (RS) and the Geographical Information System (GIS) it is possible through the photo - interpretation, to process the setorization of the urban framework, indentifying systematically sectors with similar characteristics and defining geometric and photographic standards, resulting in a better understanding and treatment of the variables that influence the trips generation. This way, based on these technologies, a methodology to analyse and classify the dates from images that constitute homogeneous photo-interpreted classes (CFI) was developed. Later, a trip generation model was formulated, through the relationship of CFIs and socio-economic data of population aggregated by censitary sectors, obtaining trip generation factors for CFI. The model was tested in the city of Sobradinho (Brasilia-DF), where the factors showed a relationship with the type of land use. A highest value is observed in residential pattern of land use, however mixed occupation types presented lowest value in relation to the CFI of residential pattern.
Citation
Taco, P.W.G., Yamashita, Y., Dantas, A.S., Souza, N.M. (1997) Modelo de geração de viagens com aplicação do sensoreamento remoto e dos sistemas de informação geográfica. Rio de Janeiro, Brazil: XI ANPET, 1997. 253--265.
This citation is automatically generated and may be unreliable. Use as a guide only.