The winter-over syndrome and the potential lessons for space travel
(2019)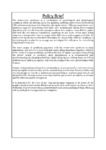 View/Open
Type of Content
Other
Thesis Discipline
Science
Degree Name
Postgraduate Certificate in Antarctic Studies
Publisher
University of Canterbury
Language
English
Collections
Abstract
The isolating, confining, and extreme environment of Antarctica presents a number of psychological and physiological challenges and stressors to those who choose to stay over during the winter months. The winter-over syndrome is a combination of conditions which can develop due to such challenges and stressors. This literature review looks into what may trigger certain conditions (such as insomnia and depression) associated with the winter-over syndrome and offers some possible solutions to help counteract and minimise their occurrences. Counter measures such as maintaining a synchronous group sleep schedule, good sleep hygiene, regular activities both social and otherwise, as well as frequent exercise may prove helpful for future interplanetary/stellar travellers.
Rights
All Rights Reserved
Related items
Showing items related by title, author, creator and subject.
Engel, Kamen

;

McBride, Sean

;

Vijayaraghavan, Ramcharan

;

Ziemke-Dickens, Caroline

(

2019

)

The concept of cultural heritage, and what the term encompasses is forever changing as the society around us develops through time. The determination that something is considered as heritage or not has the ability to ...

With a population estimated to be between 400 and 600 thousand, the Antarctic minke whale is one of the most abundant whale species in the Southern Ocean. Due to this, it is likely that minke whales play an important and ...

Laboratory sessions (labs) in geology, like in many other fields of science, provide crucial practical learning experiences that teach skills and apply the theory learned during lectures. In mineralogy and petrology courses, ...