Biomechanical modeling of English /r/ variants
(2012)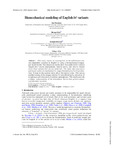 View/Open
Type of Content
Journal Article
Publisher
Acoustical Society of America (ASA)
ISSN
0001-4966
1520-8524
Language
English
Collections
Authors
Stavness I
Gick B
Derrick, Donald
Fels S
show all
Abstract
This study reports an investigation of the well-known context-dependent variation in English /r/ using a biomechanical tongue-jaw-hyoid model. The simulation results show that preferred /r/ variants require less volume displacement, relative strain, and relative muscle stress than variants that are not preferred. This study also uncovers a previously unknown mechanism in tongue biomechanics for /r/ production: Torque in the sagittal plane about the mental spine. This torque enables raising of the tongue anterior for retroflexed [ɻ] by activation of hyoglossus and relaxation of anterior genioglossus. The results provide a deeper understanding of the articulatory factors that govern contextual phonetic variation.
Citation
Stavness I, Gick B, Derrick D, Fels S (2012). Biomechanical modeling of English /r/ variants. Journal of the Acoustical Society of America - Express Letters. 131(5). EL355-EL360.
This citation is automatically generated and may be unreliable. Use as a guide only.
Keywords
Muscle, Skeletal; Jaw; Tongue; Humans; Movement; Biomechanics; Models, Biological; Phonetics; Stress, Physiological
ANZSRC Fields of Research
47 - Language, communication and culture::4704 - Linguistics
Related items
Showing items related by title, author, creator and subject.
Gick B

;

Derrick, Donald

(

Springer Science and Business Media LLC

,

2021

)

During locomotion, humans switch gaits from walking to running, and horses from walking to trotting to cantering to galloping, as they increase their movement rate. It is unknown whether gait change leading to a wider ...

Derrick, Donald

;

Stavness, I.

;

Gick, B.

(

University of Canterbury. New Zealand Institute of Language, Brain & Behaviour

,

2015

)

The assumption that units of speech production bear a one-to-one relationship to speech motor actions pervades otherwise widely varying theories of speech motor behavior. This speech produc- tion and simulation study ...

Derrick, Donald

;

Fiasson, R.

;

Best, C.T.

(

University of Canterbury. New Zealand Institute of Language, Brain & Behaviour

,

2014

)

Using electromagnetometry tracking of the tongue, Best et al. (2010, 2014) have demonstrated that Wubuy, an Australian language with four coronal stop places, shows significant differences in tongue tip vs. tongue body ...