Spillovers and Exports: A Meta-Analysis
(2019)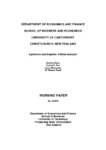 View/Open
Type of Content
Discussion / Working Papers
Publisher
University of Canterbury, Department of Economics and Finance
Authors
Meriluoto L
Das KK
Duan J
Reed WR
show all
Abstract
This study uses meta-analysis to analyze the empirical literature on spillovers and exports. It collects 3,291 estimated spillover effects from 99 studies. The estimated spillover effects in the literature span a large number of types and measures of both exports and spillovers. As a result, we transform estimates to partial correlation coefficients (PCCs). We analyze these transformed effects using four different versions of Weighted Least Squares estimators, incorporating both meta-analytic "Fixed Effects" and "Random Effects". Our analysis produces three main findings. First, while we estimate a mean overall effect of spillovers on exports that is statistically significant, the size of the effect is economically negligible. Second, we find evidence of positive publication bias using conventional Funnel Asymmetry Tests. However, the size of the estimated publication bias is small, and disappears in some regressions when other explanatory variables are included in the analysis. Third, using both Bayesian Model Averaging and frequentist WLS estimation, we find that some data, estimation, and study characteristics are significant in some regressions. However, only a few of the characteristics are robust, and none are large in size.
Citation
Meriluoto L, Das KK, Duan J, Reed WR (2019). Spillovers and Exports: A Meta-Analysis. University of Canterbury, Department of Economics and Finance. University of Canterbury, Department of Economics and Finance.
This citation is automatically generated and may be unreliable. Use as a guide only.
Keywords
spillovers; exports; meta-analysis; meta-regression analysis; Bayesian model averaging; partial correlation coefficient
ANZSRC Fields of Research
35 - Commerce, management, tourism and services::3507 - Strategy, management and organisational behaviour::350706 - International business
14 - Economics::1402 - Applied Economics::140202 - Economic Development and Growth
Related items
Showing items related by title, author, creator and subject.
Duan J

;

Qian X

;

Das K

;

Meriluoto L

;

Reed WR

(

University of Canterbury, Department of Economics and Finance

,

2019

)

This study subjects Ahn, Khandelwal, and Wei's (2011) model of intermediary trade to a series of additional tests. Using data mostly sourced independently from AKW, we demonstrate that we are able to reproduce the evidence ...

Satterthwaite S

;

Hamilton RT

(

University of Canterbury. Management, Marketing, and Entrepreneurship

,

2016

)

There is intense policy interest in high-growth firms but the evidence base is weak. This is an empirical study of the origin, demographics, and fate of two cohorts of high-growth firms in New Zealand. Customised data on ...

Reed WR

;

Qian X

;

Tian B

;

Chen Z

(

2018

)

This paper investigates profit-shifting behavior among multinational corporations (MNCs) in China. The authors exploit the flat-rate structure of China's corporate income tax, along with its system of targeted, preferential ...