Tratamiento de agua residual doméstica mediante un reactor RAFA y una celda microbiana de combustible (Treatment of domestic wastewater in a UASB reactor and a microbial fuel cell)
(2016)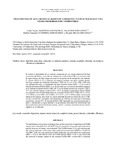 View/Open
Type of Content
Journal Article
Publisher
University of Canterbury. Civil and Natural Resources Engineering
Collections
Authors
Martínez-Santacruz, C.Y.
Herrera-López, D.
Gutiérrez-Hernández, R.F.
Bello-Mendoza, R.
show all
Abstract
The performance of a system consisting of an up-flow anaerobic sludge blanket (UASB) reactor and a microbial fuel cell (MFC) for the treatment of low-strength wastewater and the recovery of energy was evaluated. The UASB reactor (1 L) was continuously fed with raw domestic wastewater under hydraulic retention times (HRT) of 12 and 6 h. The MFC (250 mL) was operated in batch mode and fed with either raw wastewater (HRT = 12 h) or the effluent from the UASB reactor (HRT = 6 h). It was found that the removal of organic matter by the coupled UASB–MFC system (88 % chemical oxygen demand (COD), 75 % total organic carbon (TOC) and 79 % total suspended solids (TSS)) was higher than the levels obtained by the UASB reactor (76 % COD, 66 % TOC and 73 % TSS) and the MFC (60 % COD, 53 % TOC and 40 % TSS) when these were operated individually. The highest power density obtained in the MFC was 176 mW/m2 with 1000 Ω resistance, whereas the coulombic efficiency was 8 %. The UASB-MFC system proved to be a good alternative for the treatment of wastewater and the simultaneous generation of electricity even under substrate limiting conditions, such as low concentration of organic matter in the influent.
Citation
Martínez-Santacruz, C.Y., Herrera-López, D., Gutiérrez-Hernández, R.F., Bello-Mendoza, R. (2016) Tratamiento de agua residual doméstica mediante un reactor RAFA y una celda microbiana de combustible (Treatment of domestic wastewater in a UASB reactor and a microbial fuel cell). Revista Internacional de Contaminación Ambiental, 32(3), pp. 267-279.
This citation is automatically generated and may be unreliable. Use as a guide only.
ANZSRC Fields of Research
09 - Engineering::0904 - Chemical Engineering::090409 - Wastewater Treatment Processes
Related items
Showing items related by title, author, creator and subject.
Gutiérrez-Hernández RF

;

Bello-Mendoza R

;

Hernández-Ramírez A

;

Malo EA

;

Nájera-Aguilar HA

(

Informa UK Limited

,

2017

)

© 2017 Informa UK Limited, trading as Taylor & Francis Group The capacity of the photo electro-Fenton (PEF) process to degrade a mixture of seven polychlorinated biphenyl (PCB) congeners was studied. Boron-doped diamond ...

Nájera Aguilar, H.A.

;

Vázquez Sánchez, R.A.

;

Gutiérrez Hernanadez, R.F.

;

Bello Mendoza, R.

;

Rojas Valencia, M.N.

(

University of Canterbury. Civil and Natural Resources Engineering

,

2011

)

Mature leachates are a significant cause of soil and water contamination because they contain high organic loads of recalcitrant materials. The application of a physicochemical process is normally insufficient to remove ...

Dassonvalle J

;

Furness M

;

Chamy R

;

Bello-Mendoza, Ricardo

(

UNAM, IWA

,

2021

)

La generación de lodos es uno de los problemas más importantes para las plantas de tratamiento de aguas residuales. En este contexto, se presenta la digestión anaerobia (DA) como una de las mejores herramientas para para ...