Extraction and fractionation of cannabinoids from Cannabis Sativa
(2018)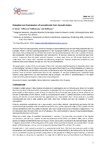 View/Open
Type of Content
Conference Contributions - Published
Collections
Authors
Tallon S
Moreno T
Montanes F
Watson MJ
show all
Abstract
There is a rapidly growing market for therapeutic and medicinal products containing cannabinoids from Cannabis, driven in part by a growing acceptance of their therapeutic benefits, and by global regulatory change that allows more widespread use of both recreational and prescribed products. There are a number of known and established methods for preparation and concentration of extracts containing cannabinoids and other natural compounds from the plant material; however, in many cases these are still poorly developed and understood from a large scale industrial manufacturing perspective. Product composition preferences and preferred formulation options are also still very much in development. This paper gives a review of the current state of the art for extraction and fractionation of Cannabis Sativa. One of the emerging methods of choice is extraction using supercritical fluid CO2 as it offers flexibility and selectivity in terms of the extract composition and is a low temperature solvent-free process that produces a high quality product. Here we present experimental data on the extraction of two New Zealand grown industrial hemp cultivars using supercritical CO2 and subcritical (liquid) propane. The effect of decarboxylation of the plant material on the yields and extract composition is also presented.
Keywords
Cannabis; Cannabidiol; Hemp; Extraction; Supercritical CO2; Propane
ANZSRC Fields of Research
09 - Engineering::0904 - Chemical Engineering
Related items
Showing items related by title, author, creator and subject.
Martin-Treceno S

;

Hughes T

;

Bishop C

;

Brown I

;

Jia Y

;

Marshall A

;

Watson MJ

(

2018

)

A new process to produce affordable titanium metal has the potential to widen its use. In New Zealand, up to 200,000 tonnes/year of Ti-rich slag is available as a by-product of the steelmaking process. Recently, molten ...

Le Bideau D

;

Mandin P

;

Benbouzid M

;

Kim M

;

Sellier M

(

Elsevier BV

,

2019

)

© 2019 Hydrogen Energy Publications LLC This article presents an exhaustive review of the transport properties necessary for the multiphysics modelling of alkaline water electrolyzer. This article provides experimental ...

Martin-Treceno S

;

Bishop C

;

Marshall A

;

Watson MJ

(

2018

)

As the standard of living improves worldwide, the current emphasis on sustainable growth is creating new opportunities in traditional industrial practices. In steelmaking, where the production of solid waste is inevitable, ...