Investigating the rates and spatial distribution of childhood ambulatory sensitive hospitalisations in New Zealand
(2019)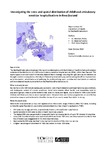 View/Open
Type of Content
Reports
Collections
Authors
Hobbs, Matthew
Tomintz, Melanie
Kingham, Simon
show all
Abstract
The GeoHealth Laboratory developed this report in collaboration with the Ministry of Health to help policymakers understand the distribution of childhood ambulatory sensitive hospitalisations (ASHs) within New Zealand. This report supports actions 6 and 8 of the New Zealand Health Strategy: ensuring the right services are delivered at the right location in an equitable, clinically and financially sustainable way, and increasing the effort on prevention, early intervention, rehabilitation and wellbeing.
Keywords
Childhood; Ambulatory sensitive hospitalisations; Spatial
Rights
The GeoHealth Laboratory acknowledges the Ministry of Health as the funder of data collection.
Related items
Showing items related by title, author, creator and subject.
Marek L

;

Hobbs M

;

McCarthy J

;

Wiki J

;

Tomintz M

;

Campbell M

;

Kingham, Simon

(

Elsevier BV

,

2020

)

Background Immunisation is a safe and effective way of protecting children and adults against harmful diseases. However, immunisation coverage of children is declining in some parts of New Zealand. Aim Use a ...

Rind, Esther Christiane

(

University of Canterbury. Geography

,

2007

)

Background Infection with Campylobacter is thought to account for about 5% - 14% of all food and waterborne diarrhoea cases worldwide. By international standards, New Zealand has extremely high rates of campylobacteriosis ...

Hobbs, Matthew

;

Wade, A.

;

Jones, P.

;

Marek, Lukas

;

Tomintz, Melanie

;

Sharma, K.

;

McCarthy, J.

;

Mattingley, B.

;

Campbell, Malcolm

;

Kingham, Simon

(

Oxford University Press (OUP)

,

2019

)

Background: We examined the association between area-level deprivation and dental ambulatory sensitive hospitalizations (ASH) and considered the moderating effect of community water fluoridation (CWF). The hypothesis was ...